Penalty For Launching Illegal Rockets In New Jersey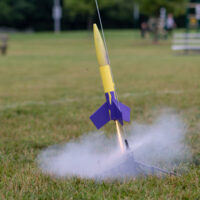 With so many billionaires blasting off on rockets these days, you might be exploring your own options for space exploration. Maybe you have purchased a model rocket. Perhaps you have been working on your own homemade rocket, and perhaps you wish to test your creation. The logic is pretty straightforward: If billionaires are allowed to launch rockets with serious amounts of explosive power, why can't you? Unfortunately, New Jersey has strict laws when it comes to launching illegal rockets, and you should be aware of these laws before you blast off.
If you have been charged with any crimes related to explosive devices, rockets, destructive devices, or fireworks, it probably makes sense to get in touch with a qualified, experienced criminal defense attorney. These legal professionals can help you fight for your rights as an American citizen, and they can guide you towards a positive legal outcome in an efficient manner.
New Jersey's Model Rocket Laws Explained 
According to New Jersey law, a "model rocket" is defined as a commercially-made rocket that is propelled by a rocket motor. This rocket must have a device that allows it to return to the ground in order to be flown again. It can be made from paper, wood, or breakable plastic. No metal parts are allowed. The primary purpose of this rocket must be for education, recreation, or sporting competition. A "rocket motor" is defined as a device that creates thrust by means of discharged gas. No mixing of propellants can be required.
You must be at least 14 years old to purchase model rockets in New Jersey, but those younger than 18 can only purchase rockets with the standardized engine coding 1/4A, 1/2A, A, B, and C. This individual must also obtain a signed consent form from their parents. If you are at least 18, you can purchase a rocket of any type. Individuals as young as 12 can fire a model rocket under the supervision of an adult. If you wish to purchase more than 220 pounds of propellant, you must obtain a permit.
Any violations of this act may result in a fine of up to $100. You can request a formal hearing within 10 days of the Notice of Violation.
Homemade Rockets May be Classified as Destructive Devices 
If you choose to build your own homemade rockets instead of purchasing commercially available models, you may start to experience more serious legal consequences. This is due to the fact that a homemade rocket can be defined as a "destructive device." Destructive devices are illegal in New Jersey, and possessing them can result in a third-degree crime conviction. As a result, you may face between three and five years in prison, and you may be fined up to $15,000.
Under New Jersey law, a destructive device can be defined as "any rocket having a propellant charge of more than four ounces or any missile having an explosive or incendiary charge of more than one-quarter of an ounce."
With all that said, you may be able to avoid serious charges if you can prove that you were using your homemade rocket for scientific or educational purposes.
Enlist the Help of a Qualified Attorney Today 
If you have been charged with any crime related to rockets, explosives, or fireworks, reach out to New Jersey criminal attorney Phillip J. Murphy. We have helped numerous individuals in New Jersey fight a range of criminal charges, including those related to weapons and destructive devices. Book your consultation today, and we can begin crafting an effective defense strategy together.
Source:
nj.gov/labor/lsse/laws/Model_Rocketry_Act.html#61