Public Corruption Charges against New Jersey and New York Officials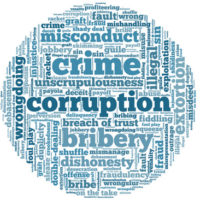 The case against U.S. Sen. Bob Menendez of New Jersey made headlines recently as attorneys asked a federal court to dismiss political corruption charges against him. The Senator's attorneys argue that a 2016 U.S. Supreme Court decision—as well as recent decisions—narrow the scope of the federal bribery statute such that he should not be charged with the crime.
His attorneys are trying to draw a correlations to an appeals ruling earlier in July, where the corruption conviction of former New York Assembly Speaker Sheldon Silver was reversed and a retrial ordered. Menendez is being accused of using his official influence help a friend of his with a business interest.
The Law
By law, public servants (such as governors, senators, etc.) can be prosecuted for what's known as honest services fraud and Hobbs Act extortion charges if they accept money in loans, gifts, and other benefits from businesses. To convict someone, the government must show that the public servant committed or agreed to commit an "official act" in exchange for the loans and gifts, where "official act" is defined as any decision or action on any question, matter, cause, suit, proceeding or controversy, which may at any time be pending, or which may by law be brought before any public official, in such official's capacity, or in such official's place of trust or profit.
The types of behaviors that have historically sparked charges by prosecutors under this law have included arranging official meetings with government officials to discuss the business' products, hosting events for the business in one's official capacity as a public servant, and contacting other government officials to try and assist the business in some way.
However, the devil is in the details: The U.S. Supreme Court recently held that, under the law, an "official act" must involve a formal exercise of governmental power, and must also be something specific and focused that is "pending" or "may by law be brought" before a public official. To qualify, the public official must make a decision or take an action on that question or matter, or agree to do so. Setting up a meeting, talking to another official, or organizing an event—without also doing more—does not fit the official definition of "official act," according to the Court. This is the standard that Menendez will be held to in his upcoming trial.
Criminal Defense Attorney Serving New York & New Jersey
If you have been accused of bribery or any other political corruption charge, you should speak with a criminal defense attorney in your area right away.
Criminal defense attorney Phillip J. Murphy has been representing clients throughout New York and New Jersey for more than 25 years. Contact us today for a free consultation so that we can discuss your case and answer any questions you might have.
Resources:
usnews.com/news/best-states/new-jersey/articles/2017-07-19/menendez-seeks-dismissal-of-bribery-case-cites-new-rulings
supremecourt.gov/opinions/15pdf/15-474_ljgm.pdf