Should I Accept A Plea Bargain In New York?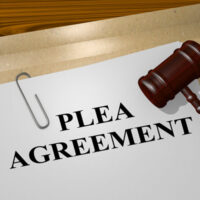 If you are facing criminal charges in New York, you may have been offered a plea bargain. If you have little understanding of the legal system, you may not know whether you should accept this plea bargain. You may not even know what a plea bargain is. Before you make any major decisions, it's always helpful to gain a basic understanding of how this works.
Of course, you should not make any major decisions without first consulting with your criminal defense attorney. If you haven't found one yet, you should really get in touch with one of these defense lawyers before you start accepting or denying plea bargains. Not only can these attorneys help you make the best decision, but they can also help you explore other legal options while leading you towards a positive outcome.
What is a Plea Bargain? 
A plea bargain involves the defendant entering a guilty plea in exchange for some kind of benefit from the prosecutor. Usually, this is a slightly reduced sentence. If you are facing multiple charges, a plea bargain may result in one or more of your charges being dropped. However, it's important to note that a plea bargain does not allow you to avoid legal consequences. You're simply bargaining for slightly better treatment.
Advantages of a Plea Bargain 
Here are some notable advantages of accepting a plea bargain:
Lighter sentencing
Lesser charges may be dropped
Getting your case over with quickly
Disadvantages of a Plea Bargain 
There are also a number of disadvantages associated with plea bargains, such as:
You lose the right to a trial
You get a criminal record
There is no guarantee the court will honor the agreement
Should You Accept the Plea Bargain? 
This is something you need to discuss very carefully with your attorney. Sometimes, prosecutors offer plea bargains because they know they don't have the necessary evidence to convict you in a trial. You also need to get realistic with yourself. Did you really commit the crime? Or are you innocent? If you don't take the opportunity to prove your innocence, you may regret it later. Also, consider what's being offered. Sometimes, the plea bargain provides you with very little benefits, and you might as well go to trial. In addition, consider whether or not you feel like you're being coerced to accept the plea bargain. In the end, it might be best to trust your gut while listening to the advice of your defense attorney.
Enlist the Help of a Qualified Attorney Today 
Dedicated New York criminal attorney Phillip J. Murphy can help you fight your criminal charges. With our help, you can approach plea bargains in an informed, logical manner. We can assist you as you decide whether or not you'd like to accept a plea bargain, and we're ready to represent you in court if necessary. Book your consultation today, and we can immediately get started on an effective defense strategy.