Should Prisoners Have A Right To DNA Testing?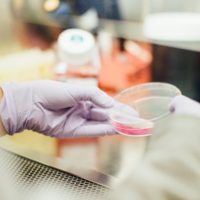 The story of Kevin Cooper—who is currently sitting on death row, and demanding DNA testing to prove his innocence—has captured news headlines of late, especially after Nicholas Kristof—a columnist for The New York Times—published an opinion column suggesting that Cooper was framed for the murder he stands convicted of. The case not only involves alleged wrongful conviction, but potential police misconduct, and a state governor who may be unwilling to give science and reason a chance in potentially exonerating an innocent man.
What makes Cooper's situation stand out from the rest? According to Kristof—who interviewed numerous people involved in the case—in his 34 years as a journalist, he has "never come across a case in America as outrageous as Kevin Cooper's"; an injustice that could involve police framing an innocent man and a governor who refuses to allow advanced DNA testing.
Kevin Cooper's Case
The case against Cooper reportedly relies on conducting "touch DNA" testing on evidence that was collected from the crime scene, including hairs found in the hands of the victims, a hatchet used in the murder, and a T-shirt; all of which were not evidently DNA-tested back when Cooper was initially tried (1983).
The Governor (Brown) can not only authorize the use of DNA testing in this case, but he can also invoke his clemency powers to spare Cooper's life if this evidence proves that he's innocent. If he fails to do so, Cooper's execution could take place within the next year due to a death penalty measure that was passed by state voters in 2016.
Kristof's journalistic investigation has now cast serious doubt on the police work done in association with the case, eliciting members of the public to demand the right to DNA testing, especially in death row cases.
Meanwhile, the district attorney fighting clemency insists that Cooper's DNA was already found at the scene of the crime; specifically, a small spatter of Cooper's blood was found at the crime scene, and the T-shirt found contained DNA from Cooper and one of the victims. He also claims that too many people have touched the other evidence—including the hatchet—such that a lot of the DNA tested would technically come out "unknown."
The Very Best in Criminal Defense Representation
If you've been accused of a crime, you want to ensure that you work with a criminal defense attorney who can ensure that your rights have been protected and that the proper forensic techniques have been used in the case to help secure your innocence.
Phillip J. Murphy has been aggressively representing clients throughout New York and New Jersey accused of crimes for more than 25 years. Contact us today to find out how we can help.
Resources:
losangeles.cbslocal.com/2018/05/22/chino-hills-massacre-new-dna-test/
sandiegouniontribune.com/opinion/the-conversation/sd-who-is-kevin-cooper-california-death-row-inmate-20180518-htmlstory.html
abc7.com/da-fights-clemency-bid-by-convicted-killer-kevin-cooper/3504574/