The Burden Of Proof In New York Criminal Cases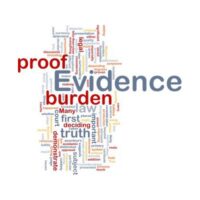 "Innocent until proven guilty." This simple phrase forms the foundation of our legal system in New York. If you have been accused of a crime, you are always presumed innocent until the prosecution can prove your guilt beyond a reasonable doubt. It's important to be aware of this legal principle – even if you have never been accused of a crime before in your life. It means that if you are accused of a crime, you can feel confident about your chances in court as long as you know you're innocent.
In the legal world, this is also known as the "burden of proof." The burden of proof always falls on the shoulders of the accuser, not the accused. This means that if you find yourself in a suspicious situation and the police are asking you questions, you can feel confident about exercising your right to remain silent. Refusing to answer questions can never be construed as a sign of guilt, because the burden of proof is on the accused, not the accused.
This also means that you should not feel pressured to admit guilt when you did nothing wrong. If police officers are pressuring you to confess to a crime you didn't commit, you can stick to your guns and rely on the justice system to prove your innocence. Even if the police tell you that the evidence is stacked up against you, you can always fight to prove your innocence in court without accepting any deals or compromises with the authorities.
With all that said, you still need a qualified, experienced criminal defense attorney if you want to avoid criminal consequences. The burden of proof might be on the accuser, but your criminal defense attorney can help you dissect and disprove the prosecution's arguments. Without an attorney by your side, the prosecution may be able to present questionable and improper evidence, convincing the jury of your guilt even when you are innocent. If you are facing charges, it's best to get in touch with a qualified, experienced criminal defense attorney at your earliest convenience.
The Definition of Reasonable Doubt 
So if the prosecution must prove your guilt "beyond a reasonable doubt," then what is the definition of "beyond a reasonable doubt?" Essentially, the prosecution must show with almost absolute certainty that you are guilty. If there is any notable degree of doubt in the minds of the jury, they cannot convict you. The bar is set incredibly high because your life and freedoms are on the line.
Enlist the Help of a Qualified Attorney Today 
If you are facing criminal charges, contact New York criminal defense attorney Phillip J. Murphy. With our help, you can take full advantage of the rights and freedoms guaranteed to you under the Constitution. The burden of proof provides you with a strong degree of protection – but only if you have a qualified attorney at your side who has the necessary experience. Book your consultation today, and we can immediately get started on an effective defense strategy.
Source:
law.cornell.edu/wex/burden_of_proof#:~:text=Generally%2C%20describes%20the%20standard%20that,have%20that%20fact%20legally%20established.&text=For%20example%2C%20in%20criminal%20cases,fact%20beyond%20a%20reasonable%20doubt.