The Most Important Civil Rights Case of the Term Comes Before the U.S. Supreme Court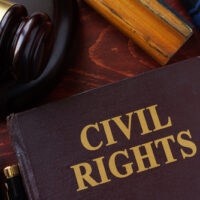 In November, the U.S. Supreme Court heard arguments in what many are calling the most important civil rights case to come in this term. The case involves a dispute between Comcast and Byron Allen, who is claiming that Comcast refuses to air channels from his company for racist/discriminatory reasons.
Comcast Urges Narrow, First-Ever Interpretation of the Civil Rights Act
At the heart of the case is Section 1981 of the Civil Rights Act of 1866, which guarantees everyone in the U.S. the same rights, regardless of race. Comcast has proposed a radical interpretation of Section 1981 which, if accepted by the Court, could roll back the protections provided by the law. Specifically, the company is arguing that the plaintiff Allen must not only prove that race was a significant motivating factor in the company's decision not to enter into a contract with him, but that it is was the only factor. In other words, Comcast has argued that Allen's claim must meet "but-for" causation: "But" for racism, Comcast would have engaged in a contract with Allen. And, if Comcast would have made the same decision about entering the contract even if the plaintiff had been white, then it provided the plaintiff with the "same rights" under the Act.
The U.S. Department of Justice has filed a brief with the Court supporting Comcast's position that "but-for causation" is the "default rule" or all federal anti-discrimination laws.
The Consequences of the Decision
If the Court sides with Comcast, not only will individuals find it difficult to bring claims under the Act, but victims of economic discrimination could find it nearly impossible to prove all of a company's considerations in its decision-making process. In addition, civil rights advocates have long maintained that it is the defendant's burden to explain whether and how it considered race in its business decision, not the plaintiff.
Last year, the U.S. Court of Appeals for the Ninth Circuit rejected Comcast's position, recognizing that Comcast's argument is not only antithetical to the purpose of Section 1981, but that it would effectively gut the law and in doing so rollback longstanding civil rights protections; one of those protections being the prohibition of racial discrimination in business contracts. If the Court narrows the interpretation of the law, it could very well provide companies with the cover needed to hide racial discrimination and his accountability.
If You Have Civil Rights Concerns Here In New York, Contact Our Civil Rights Attorneys
New York criminal defense attorney Phillip J. Murphy has more than 25 years of defending individuals' rights. If you have a civil rights related concern, contact our office for a free consultation to find out how we can help.
Resource:
blackenterprise.com/supreme-court-could-turn-clock-back-on-civil-rights-byron-allen-comcast-suit/
scotusblog.com/2019/11/justices-to-consider-pleading-standard-for-federal-law-barring-discrimination-in-contracts/https://fortune.com/2019/11/13/supreme-court-comcast-byron-allen/
https://www.phillipmurphylawyer.com/new-york-city-makes-it-illegal-to-discriminate-against-immigrants/