The US Supreme Court Takes Up Case That Could Lead to Criminalizing All Immigrant Advice & Advocacy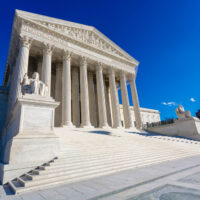 The US Supreme Court has agreed to hear one case that could significantly affect the ability of attorneys to represent immigrants. The case – United States v. Sineneng-Smith – involves a relatively unknown provision in immigration law that forbids "encouraging or inducing an alien to reside in the United States" when that individual knows that the immigrant does not have legal status.
The Case
The case involves an immigration consultant who allegedly informed her undocumented clients that they could stay in the United States under a program that had already ended. She was convicted for fraud; however, the government also attempted to convict her under this provision, known as the encouragement provision, which arguably criminalizes any pro-immigration speech.
The 9th Circuit Court of Appeals reversed the defendant's conviction under the encouragement provision, finding that the government's interpretation of the statute criminalizes a significant amount of constitutionally-protected speech. Specifically, the judge indicated that the provision could essentially send someone to prison for using social media to encourage undocumented individuals to stay in the United States until the law changes, or even an attorney for telling their client that they will have fewer due process rights outside of United States.
The case and the government's argument have frightened a number of rights advocates, especially since this is not the first time that the government has used it to prosecute someone: As the 9th Circuit pointed out, one individual who advised someone very generally about immigration law without any other actions being taken was previously prosecuted. Still, the government insists that it is referring to conduct – not speech – concerning the alleged illegal activity that it is prosecuting under the provision.
Could This Lead To Being Arrested Simply For Discussing Immigration?
The immigrant and criminal defense community is now concerned that the Court potentially reversing the 9th Circuit's decision could allow the administration to essentially criminalize routine legal work and free speech in circumstances that may trigger criminal liability when individuals and attorneys provide advice to non-citizens. Many are especially frightened because the government seeking the US Supreme Court to reverse the 9th Circuit's decision is arguably an indication that it wants to use this provision more broadly; even though it already has plenty of laws to prosecute activities such as trafficking. There is also some concern that the Supreme Court simply choosing to take up the case–which is not an obvious candidate for review–is a bad sign that the Court could issue a decision purely for political reasons. As a result, a number of attorneys are also concerned that lawyers in general will be simply too afraid of being prosecuted to provide accurate advice to people, even though they would simply be doing their job by providing that advice and representation to their clients.
If You Are Being Charged for Exercising Your Rights, Contact Our New York Civil Rights & Criminal Defense Attorneys
If you have been arrested for simply exercising your basic civil rights, contact our New York criminal defense attorneys at the office of Phillip J. Murphy to find out how we can help.
Resource:
www.oyez.org/cases/2019/19-67
slate.com/news-and-politics/2019/11/supreme-court-criminalize-immigration-advocacy-sineneng-smith.amp
https://www.phillipmurphylawyer.com/new-york-city-makes-it-illegal-to-discriminate-against-immigrants/?preview_id=3321&preview_nonce=8c30b7876c&preview=true&_thumbnail_id=1666