U.S. Supreme Court Hears Case Battle of State Versus Federal Criminal Law When It Comes to Immigration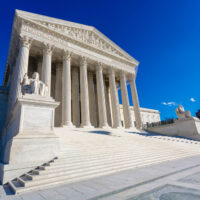 The U.S. Supreme Court is currently considering a case that, if decided in favor of the state of Kansas, could open the door for every state to start regulating immigration according to their own criminal laws instead of it being the traditional jurisdiction of the federal government (via the Immigration Reform and Control Act of 1986). Indeed, a number of states have already filed briefs supporting Kansas' argument, arguing that a ruling against the state would hamper their own ability to enforce identity theft laws and protect their own citizens.
The Case
The case concerns an immigrant who allegedly used a fake Social Security number in order to obtain employment, and who was prosecuted by the state of Kansas for identity theft as a result. Specifically, federal prosecutors declined to charge the worker after he was arrested for using a fake Social Security card because he was cooperating with a related investigation, and Kansas authorities then decided to step in and obtain a state conviction that could lead to his deportation. The Kansas Supreme Court already ruled in favor of the defendant, finding that state prosecution was invalid because the regulation of unauthorized employment is the purview of federal law, and the federal government has exclusive authority to punish immigrants who use fake identification in order to gain employment and to determine who is authorized to work in the U.S. Kansas – supported by the Trump administration – has responded that it was not acting as an immigration enforcer, but rather legally enforcing its own state identity theft laws. These parties argue that the states have broad authority to craft and enforce their own criminal laws; an authority that the federal government cannot infringe upon. Its state law – like many others – generally criminalizes using any personal identifying information that belongs to someone else to obtain any benefits fraudulently. In this particular area of Kansas, local prosecutors have been reportedly aggressively pursuing immigrations under state false information and identity theft laws. In fact, with this particular worker, the local district attorney pushed forward with identity theft charges, even after he obtained lawful immigration status.
If You Have Been Arrested In New York Or New Jersey, Contact Our Criminal Defense & Civil Rights Attorneys
There is no question that the outcome of this case will shape both criminal and immigration laws as they apply to defendants everywhere. If you live in New York or New Jersey and have been arrested for a crime that is wrongfully being prosecuted under state law instead of federal, contact our experienced New York criminal defense attorneys at the office of Phillip J. Murphy today to find out how we can best protect your rights in court.
Resource:
cnn.com/2019/10/16/politics/supreme-court-immigration-sotomayor/index.html
kshb.com/news/state/kansas/supreme-court-to-consider-kansas-immigration-case
https://www.phillipmurphylawyer.com/pressure-mounts-on-hill-over-criminal-justice-reform/