U.S. Supreme Court Poised To Rule In Favor Of Criminal Defendants' Sixth Amendment Rights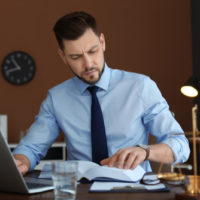 On February 26, the U.S. Supreme Court heard oral arguments in United States v. Haymond, which addresses our constitutional right to a jury trial under the Sixth Amendment. The case involves the ability for judges to imprison sex offenders without first providing them with the right to a jury trial; specifically, the case before the Court challenges a federal statute that provides for judges to send sex offenders back to prison to serve additional prison time (five years to life) for their original conviction, without a jury trial, if the judge finds, by a preponderance of the evidence, that the offender violated the terms of their supervised release. The challenge was brought by a defendant who served time for possessing child pornography and who was sent back to prison after violating his supervised release; without that new sentence being determined by a jury; beyond a reasonable doubt.
Justices Are Concerned & Poised To Rule for Challenger Regarding Violations of Fifth and Sixth Amendment Rights
The federal statute and practice that allows for a judge to impose this additional sentencing without the involvement of a jury clearly violates the Constitution on a number of levels; specifically, it provides judges with the discretion to find a defendant guilty, and to sentence them to a prison term beyond what the jury trial originally did, skirting the requirements of the Fifth and Sixth Amendments,
And it is clear that Justices Gorsuch and Sotomayor, amongst others in the majority, were downright shocked by the statute, noting that they did not understand "why the government resists the involvement of a jury of a man's or woman's peers." Justice Sotomayor specifically asked whether there is "any other area of the law in which we permit imprisonment by a preponderance of the evidence" and how it could possibly be constitutional for someone who has been sentenced to, for example, five years, has a judge come along and decide that they should have, instead, been sentenced to eight years, even if the jury didn't find facts sufficient to do so in the first place.
Not only does the statute do away with a jury trial, but with parole itself; instead, replacing it with supervised released that a defendant can automatically lose very easily; possibly opening them up to being sentenced for life. It was clear that the majority of the court was ready to strike down the statute and/or add the requirement that a jury trial be relied upon to prove any new offense with new prison time, beyond a reasonable doubt. Only a scheme like this would be in keeping with the Sixth Amendment's right to an impartial jury.
Contact Our Experienced Criminal Defense Attorneys to Find Out More
If you have been accused of a crime, it is imperative that you work with a criminal defense attorney who will aggressively fight for your rights, even if that means challenging the constitutionality of the law itself. Contact our criminal defense attorneys today at the office of Phillip J. Murphy to find out more about our excellent legal services and representation.
Resources:
law.cornell.edu/uscode/text/18/3583
slate.com/news-and-politics/2019/02/gorsuch-sotomayor-jury-trial-haymond.html
https://www.phillipmurphylawyer.com/u-s-supreme-court-decides-whether-attorneys-can-override-criminal-defendants-wishes/