U.S. Supreme Court Refuses to Hear City Appeal, Effectively Upholding Lower Court's Decision That Cities Cannot Prosecute the Homeless for Sleeping On the Streets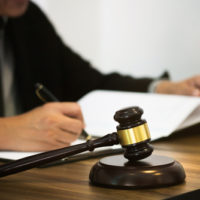 In December, the U.S. Supreme Court refused to hear one city's defense of its policy to prosecute the homeless for sleeping in public, and in doing so, upheld a lower court's ruling that it violates the constitutional rights of those who sleep in public because there is not enough room in the shelters. As a result, a number of cities – including those in New York and New Jersey – must review their enforcement policies against the homeless for potential violations of protection against cruel and unusual punishment.
The city in this case argued that there was an important, rational basis for the policy, and that was the protection of public health and safety. It also argued that the encampments encouraged gang activity and drug dealing. As a result, various ordinances in the city had essentially defined camping and lodging or sleeping in public to be "disorderly conduct," as prohibited by the law. Six homeless residents who were prosecuted under the laws sued the city and the 9th Circuit ruled that the policies violated the Eighth Amendment's prohibition of cruel and unusual punishment if there are more homeless people than available shelter beds. Specifically, the court stated that the government cannot criminalize being indigent, homeless, and sleeping outdoors as though there is a choice in the matter.
Did The Decision Leave Any Wiggle Room to Justify Criminalizing Sleeping Outdoors?
The decision was very specific to the illegality of arresting the homeless for sleeping outdoors when there are no options for sleeping indoors, which could lead to some issues in cities that claim that there are shelters with open spaces and/or those who do not turn anyone away. However, the justices were also quick to point out that, even when it comes to shelters that have a policy of not turning anyone away, there are still a number of limitations, such as the number of days that one person can spend at that particular shelter. The 9th Circuit also handed down a similar ruling in 2006 that indicated that yet another city could not enforce laws against sleeping in public which was not specific about shelter space, indicating that this is a broad decision arguably barring law enforcement from arresting and prosecuting those who must sleep outside.
The Practice Here In New York
Unfortunately, this practice happens all the time here in New York, especially in New York City, where the safest place to sleep is often the subway. This year, Governor Cuomo specifically directed the authorities to "address homelessness in trains and stations." Reports estimate that there are at least 2,500 police officers just dedicated to policing the subways for this reason. Some have reported that officers bang batons and poke these individuals, using force even though it is after hours when commuters are gone.
If You Have Been Targeted, Contact Our Civil Rights & Criminal Defense Attorneys
If you have been arrested in violation of your civil rights, contact our experienced New York criminal defense attorneys at the office of Phillip J. Murphy today to find out how we can help.
Resource:
theguardian.com/us-news/2019/oct/12/new-york-homeless-subways-police-crackdown
latimes.com/politics/story/2019-12-16/supreme-court-lets-stand-ruling-that-protects-homeless-who-sleep-on-sidewalk
reuters.com/article/us-usa-court-homelessness/u-s-supreme-court-leaves-in-place-ruling-barring-prosecution-of-homeless-idUSKBN1YK1EA
https://www.phillipmurphylawyer.com/trials-for-criminal-defendants-in-new-york-are-about-to-completely-transform-due-to-criminal-justice-reforms/?preview_id=3429&preview_nonce=9c8062f0a7&preview=true&_thumbnail_id=2844