Various New Jersey Scammers Caught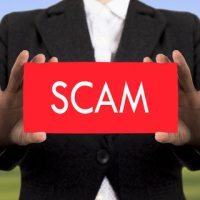 A scam might seem like the perfect way to "get rich quick" – especially in an era of mounting financial pressures, rising inflation, and economic uncertainty. But the cost of running a scam can completely wipe out any gains that you might have "earned." Scammers are repeatedly brought to justice in the Garden State, and you run the risk of serious legal penalties if you follow this route. A number of recent cases highlight this fact. But what happens if you get caught defrauding the government, charities, or other citizens?
Man Admits to Defrauding Veterans Affairs and Threatening Federal Agent 
On January 10th of 2023, it was reported that a man from Morris County had pleaded guilty to defrauding Veterans' Affairs and threatening a federal agent. The defendant served in the Marine Corps for four years. In 2018, he made false representations to the VA – claiming that he suffered from PTSD. In order to make this claim seem more believable, he told the VA that he was tasked with recovering human remains from natural disasters in Thailand and other locations.
In truth, he had never been assigned such duties – and his PTSD was likely a fabrication. As a result of these mistruths, the defendant successfully received $118,00 from the VA. When he was investigated for fraud, the defendant sent a text message to a federal agent, threatening him with bodily harm. The individual now faces up to 10 years in prison and a fine of up to $250,000.
New Jersey Man Charged with Defrauding the Pennsylvania Turnpike 
On January 13th, it was reported that a New Jersey man was facing up to 20 years in prison for defrauding the Pennsylvania Turnpike Commission. Along with another defendant, this individual allegedly acquired Z-Pass transponders using fake identification and sold them to truckers in the New Jersey area. These truckers then used the transponders to avoid paying a total of over $1 million in tolls.
Woman Sentenced to Three Years for Viral GoFundMe Scam 
Of course, it's not always the government that is being victimized by scammers. Sometimes, citizens defraud other Americans. Such was the case when a woman from New Jersey created a fraudulent GoFundMe page, claiming to be collecting money for a homeless man. She raised more than $400,000, which she subsequently spent on a BMW, trips to casinos, and various other personal expenses.
Where Can I Find a Qualified Criminal Defense Attorney in New Jersey? 
If you've been searching for a qualified, experienced New Jersey criminal defense attorney, look no further than Phillip J. Murphy, Attorney at Law. Over the years, we have helped numerous defendants – including those accused of so-called "white-collar crimes" such as fraud or scams. With our assistance, you can clear up any misunderstandings and strive for the best possible legal result. Book a consultation today to get started with an effective defense strategy.
Sources: 
nj.com/mercer/2023/01/nj-man-charged-with-defrauding-pa-turnpike-commission-of-over-1m-in-tolls.html
justice.gov/usao-mdpa/pr/two-men-charged-scheme-defraud-pa-turnpike-million-dollars-tolls
nytimes.com/2023/01/08/nyregion/katelyn-mcclure-gofundme-scam-sentenced.html