What Are New York's Laws On Knives?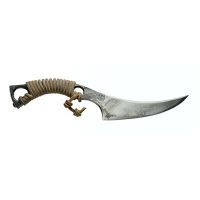 Knives are some of the oldest weapons on the planet, and they continue to see use in the modern era due to a number of attractive features. Firstly, they are easy to obtain, and they are not subject to the same level of regulation and scrutiny compared to firearms. Secondly, they are quiet and easy to conceal. Finally, knives are useful in a wide range of tasks, including self-defense, survivalism, cooking, and repairs. But what are New York's laws regarding knives? What happens if you get caught with one? What happens if you commit a crime using a knife?
Questions like these are perhaps best left answered by a professional, qualified criminal defense attorney in New York. These legal professionals can help you fight for your rights and avoid or mitigate criminal consequences like jail time, prison time, fines, or community service. It's best to get in touch with an attorney as soon as possible to get started with an effective defense strategy.
Banned Knives in New York 
According to New York law, there are a number of knives and related weapons that are prohibited (1). These include:
Switchblades
Pilum ballistic knives
Metal knuckle knives
Cane swords
Ninja throwing stars
In addition, there are a number of different knives that may be considered illegal based on the circumstances. These include:
Gravity knives
Daggers
Dirks
Stilettos
Machetes
Razors
Even legal knives can be illegal when carried in certain areas. For example, all knives are illegal to carry in the NYC Transit System. In addition, it is illegal to carry a knife "in public view," which may include wearing it on the outside of your clothing or on your belt – even if just a small portion of the knife is visible. In addition, it is illegal to carry any kind of knife that is longer than four inches in New York City.
An Example of a Crime Committed with a Knife 
On June 9th, it was reported that a man had been charged with Hobbs Act robbery and was facing up to 20 years in prison after carrying out a robbery at knifepoint in New Jersey (2). The individual entered a taxi cab company headquarters and demanded money from the dispatcher. After being informed that there was no money in the office, the criminal attempted to stab the woman. He also assaulted her and robbed her of her valuable possessions.
Enlist the Help of a Qualified Attorney Today 
Dedicated New York criminal defense attorney Phillip J. Murphy is prepared to help you fight your charges. Over the years, we have helped numerous defendants in New York, and we can guide you towards a positive outcome in a highly efficient manner. Book your consultation as soon as possible, and you can mitigate various consequences you might be facing with a solid defense strategy.
Sources: 
nyc.gov/site/nypd/about/faq/knives-faq.page
justice.gov/usao-nj/pr/essex-county-man-convicted-knifepoint-robbery