What Are The Penalties For Robbing A Pharmacy In New Jersey?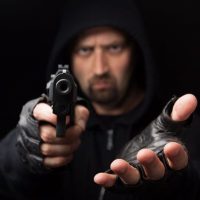 People may have many reasons for robbing pharmacies in New Jersey. Some might be struggling with substance abuse issues, and they may feel as though they have no option but to take extreme measures to feed their addictions. Others may be more opportunistic, seeing this as a chance to steal prescription drugs and sell them on the black market for profit. Whatever the case may be, it's important to understand that there are laws put in place specifically for pharmacy robberies in New Jersey, and you can expect serious consequences if you engage in this crime.
An Example of a Pharmacy Robbery in New Jersey 
On October 21st, it was reported that a man from Essex County had been charged with the armed robbery of three pharmacies. He allegedly stole oxycodone and other prescription medication throughout Elizabeth. He used a firearm in the course of these crimes, making these offenses much worse. In the end, the Justice Department reported that he had been charged with "three counts of Hobbs Act Robbery and three counts of using, carrying, and brandishing a firearm during and in relation to a crime of violence."
The crimes occurred in June and July of 2022. The defendant always robbed pharmacies in the morning, and he always demanded that the employees provide him with oxycodone, promethazine, and a number of other very specific drugs. This was likely because these drugs are easy to sell on the black market due to their addictive qualities. During each robbery, he threatened to shoot the employees if they did not comply. In the end, he was caught after law enforcement officials reviewed the surveillance footage from the three pharmacies that he targeted.
His potential penalties are incredibly serious. Each of the three Hobbs Act Robbery charges carry a maximum sentence of 20 years in prison. Each of the three counts of "using, carrying, and brandishing a firearm during and in relation to a crime of violence" carries a maximum sentence of life in prison. This means that barring some incredible feat accomplished by his defense attorney, the defendant will likely be spending a very long time in prison. In addition, each individual count carries a fine of up to $250,000. This is definitely something to consider if you are thinking about robbing a pharmacy in the near future.
Where Can I Find a Qualified Defense Attorney in New Jersey? 
If you've been accused of Hobbs Act Robbery or stealing from a pharmacy, you need to get in touch with a qualified, experienced New Jersey defense attorney as soon as possible. With help from one of these legal professionals, you can strive for the best results and fight for your rights effectively. The sooner you speak with a lawyer, the better – so get in touch with Phillip J. Murphy, Attorney at Law today and book your consultation.
Sources: 
justice.gov/usao-nj/pr/essex-county-man-charged-three-armed-robberies-pharmacies-elizabeth-new-jersey
justice.gov/archives/jm/criminal-resource-manual-2402-hobbs-act-generally