What Happens If You Attack A Healthcare Worker In New Jersey?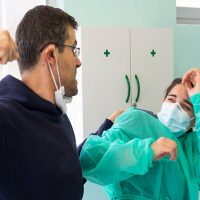 As you may know, penalties may vary depending on the victim. Just on a moral level, attacking a senior is clearly a much more heinous crime compared to attacking a healthy, young adult. Taking advantage of people with mental issues is something we can all agree is wrong, while scamming someone with a high IQ might even be seen as vaguely impressive. Assaulting a police officer can lead to more serious penalties compared to assaulting a normal citizen. But what happens if you assault a healthcare worker in New Jersey? Thanks to a new law, you could be looking at heightened penalties for this crime.
Why New Jersey Created These New Laws 
New Jersey has created new penalties for assaults on healthcare workers for one simple reason: These assaults are increasing. The statistics don't lie, and people seem more likely than ever before to attack doctors, nurses, and anyone else that may be attempting to provide treatment to the population. The New Jersey Hospitals Association has reported a 14.6% increase in physical and verbal abuse towards staff. This spike in violence has occurred between 2019 and 2021. Obviously, the dates here are significant. These were the years of the pandemic, when many people were frustrated and confused about Covid-19 and the various regulations that the government put into place.
You might argue that since the pandemic is over, these laws are no longer necessary. BUt this is not the position of the government, and their logic is that these laws will prevent further violence – especially if we experience another major pandemic.
What Are These New Laws? 
The new set of laws were put in place by Governor Phil Murphy, and on May 9th of 2023 it was reported that the Health Care Heroes Violence Prevention Act had been signed into law. The law creates two new penalties:
The first set of penalties applies to anyone who verbally threatens a healthcare worker. If you are accused of this crime, you will face a disorderly persons offense. This type of offense involves a maximum prison sentence of six months – plus a $1,000 fine.
The second set of penalties applies to actual assaults committed against healthcare workers. Anyone accused of this crime may face up to 12 months of state-mandated anger management courses and 30 days of community service. In addition, they will face the full brunt of the legal consequences normally associated with assault – including prison and fines.
Where Can I Find a Qualified, Experienced Defense Attorney in New Jersey? 
If you have been accused of attacking a healthcare worker in New Jersey, it is imperative that you get in touch with a qualified, experienced New Jersey criminal defense attorney as soon as possible. New laws in New Jersey make this a much more serious offense, and you need to get started with a solid defense strategy right away. Choose Philip J. Murphy, Attorney at Law today and get started with a reliable action plan.
Source:
northjersey.com/story/news/health/2023/05/09/nj-law-health-care-heroes-violence-prevention-phil-murphy/70196969007/