What Happens If You Escape From Jail In New Jersey?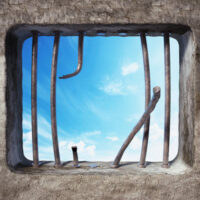 For most people, escaping from prison seems like a movie scene rather than something that could actually happen in real life. However, inmates continue to escape from jails and prisons in New Jersey, and this prospect might be more common than you realize. In instances where there is minimal security, escaping from prison might be as easy as running away when no one is watching during work duty outside of the facility.
In December of 2020, it was reported that an ICE detainee had escaped from a jail in Essex County. Authorities did not reveal how the Guatemalan individual managed to escape the facility, but they did state that bad weather made it impossible to fly a helicopter during the search.
So what happens when you escape from prison in New Jersey? What additional charges do you face? What if you are a fugitive who is on the run? What happens when you turn yourself in? These are all important questions, especially if you're facing criminal charges in the Garden State. If you find yourself in any of these situations, it's best to consult with a criminal defense attorney as soon as possible.
The Legal Definition of "Escape" in New Jersey
In New Jersey, a person is guilty of "escape" when they "remove themselves from official detention or fail to return to official detention following temporary leave granted for a specific purpose or limited period."
It's worth noting that "absconding from parole" is a separate crime. This is when you go into hiding or leave the state in order to avoid supervision.
Finally, you may also be charged with this crime if you help someone else escape from a detention facility in New Jersey. This is known as "permitting or facilitating escape." Public servants like prison guards can also be charged with this crime.
The Consequences of Escaping
There are a number of potential consequences you may face if you escape from prison. First of all, you will likely be placed under heightened security measures when you are taken back into custody. Solitary confinement is a common consequence.
In addition, you will likely have to serve additional time in prison when you return to confinement. This is because "escape" is a crime of the third degree. If you used force, threats, or a deadly weapon while escaping, then you will be charged with a crime of the second degree. This could lead to a lengthened sentence, and you may also face fines.
Enlist the Help of a Qualified Criminal Defense Attorney as Soon as Possible
Whether you're a fugitive on the run or you're simply curious about what might happen if you try to escape, it's best to work with a qualified New Jersey criminal defense attorney. These legal professionals can explain every aspect of the law that pertains to your unique situation. Reach out to Phillip J. Murphy as soon as possible, and you can take your next steps in an informed, efficient manner.
Source:
nj.com/crime/2020/12/ice-detainee-escapes-from-essex-county-jail-officials-say.html