What Happens If You Try To Use Fake Vaccine Cards In New York?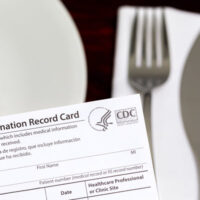 Today, there is a clear divide between the vaccinated and the unvaccinated. Although the vaccinated are in the majority, there are a considerable number of unvaccinated individuals, and these individuals may feel that they have been robbed of certain rights due to their refusal to receive medical treatment. Almost inevitably, this has led to many unvaccinated people in New York obtaining and using fake vaccination cards. So what happens if you're caught with one of these fake documents? What kind of legal consequences might you face?
If you have been charged with any crimes related to fake vaccination cards, you should get in touch with a qualified, experienced criminal defense attorney in New York at your earliest convenience. These legal professionals can help you fight for your rights in the most effective way possible, and they can help you avoid certain legal consequences, like jail time or fines. With their assistance, you can approach this daunting situation in a more confident, efficient manner.
New York Couple Arrested for Using Fake Vaccine Cards 
While each situation is different, it helps to examine real-life situations in order to understand the consequences of various crimes. On January 26th, it was reported that a couple in West Seneca was arraigned on felony charges for using fake vaccine cards. They apparently used their fake vaccine cards to enter Highmark Stadium in order to watch a game between the Buffalo Bills and the New England Patriots. This was during the NFL Playoffs on January 15th of 2022.
These individuals have both been charged with one count of Criminal Possession of a Forged Instrument in the Second Degree. This is a Class D felony, which means that they could face a maximum prison sentence of seven years if convicted. Their felony hearing was scheduled for February 22nd of 2022.
Although this might seem like an insanely harsh penalty for a couple that just wanted to watch a football game, one has to remember that New York has passed touch legislation on fake vaccine cards. On December 22nd of 2021, Governor Hochul passed the "Truth in Vaccination" bill. This bill clearly defines a vaccination card as a "written instrument," which means that it is subject to New York state laws related to fraud and forgery.
Many people have voiced concerns about this arrest, as Covid-19 seems to be slowing down across the world. Just to provide some context, a third DUI offense also carries a maximum jail sentence of seven years, and one might argue that the potential to cause injury or death is much higher in that situation compared to presenting a fake vaccine card.
Enlist the Help of a Qualified Attorney Today 
Skilled New York criminal defense lawyer Phillip J. Murphy can help you fight your criminal charges. We know that many unvaccinated individuals in New York today may be frustrated at the limitations placed upon them, and criminal charges can make a bad situation seem even worse. Get in touch today, and we can help you avoid needlessly excessive penalties for carrying fake vaccination cards and other offenses.
Source:
wyrk.com/new-york-arrest-fake-vaccine-card/