What Happens If You Use Someone Else's Passport To Fly?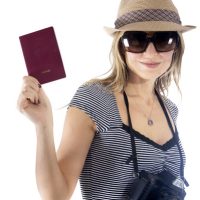 Getting a new passport can be a tiresome, time-consuming affair that results in long lines, plenty of back and forth, and considerable stress. Faced with this process, you might think that it makes more sense to simply borrow someone else's passport. After all, if they look similar enough to you, then the airport officials are unlikely to figure out your scheme… right? Before you make any hasty moves, you might want to check to see what penalties you might face if caught. The truth is that these penalties can be quite significant.
If you've been charged with passport theft, identity theft, or any other related crime, it always makes sense to get in touch with a qualified, experienced criminal defense attorney at your earliest convenience. These legal professionals can help you strive for the best possible outcome in a highly efficient manner. With their guidance, you can fight for your rights and mitigate any potential consequences you might be facing.
Woman Leaves Newark Airport with Another Person's Passport 
On July 7th, it was reported that a woman had been charged with misuse of a passport when boarded a plane and left Newark Airport for Costa Rica. It didn't take long until law enforcement officers apprehended the woman and found two different passports in her possession. One belonged to her, while the second did not. She was then brought back to the United States to face charges.
However, this isn't the full story. This woman was a murder suspect – someone who had allegedly killed a professional cyclist days earlier. To make matters even more suspicious, this murdered cyclist had dated the murder suspect's ex-boyfriend while the two were on a break. Investigators now believe that this murder was the result of a love triangle, and that the suspect's attempt to flee to Costa Rica was all part of an elaborate plot. On the night of the murder, the victim and the ex-boyfriend of the suspect were allegedly spending time together without the knowledge of the suspect.
What is the Penalty for Using Someone Else's Passport? 
So what exactly is the penalty for using someone else's passport? Misuse of a passport carries a maximum penalty of ten years. You may also be fined $250,000. It's also worth noting that this is a highly suspicious action, and you may become a suspect for other crimes because authorities may believe that you are trying to flee the country for some reason. 
Enlist the Help of a Qualified Attorney Today 
If you've been searching for a qualified, experienced New Jersey criminal defense attorney, look no further than Phillip J. Murphy, Attorney at Law. Over the years, we have helped numerous defendants in the Garden State, and we know how daunting these kinds of situations can be. With our assistance, you can strive for the best possible results and fight for your rights with a sense of confidence. Book your consultation today to get started with an effective defense strategy.
Sources: 
justice.gov/usao-nj/pr/woman-accused-murder-texas-charged-misuse-passport-while-leaving-united-states
cnn.com/2022/07/01/us/kaitlin-armstrong-captured-costa-rica-anna-moriah-wilson-timeline/index.html