What Happens If You're Caught With A Fully-Automatic Weapon In New Jersey?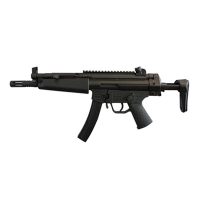 New Jersey is famous for having some of the toughest gun laws in the entire nation. Much to the disdain of legal gun owners in the Garden State, Governor Phil Murphy made these regulations even stricter in July of 2022 when he passed seven new gun control bills. Among other things, the new laws prohibit .50-caliber firearms, further regulate the sale of handgun ammunition, and make manufacturing firearms even more illegal. But there are some laws that are strictly enforced in many states – and not just New Jersey. One of these laws is the ban on fully-automatic weapons. So what happens if you're caught with such a weapon in New Jersey?
Here's What Happens When You're Caught with a Machine Gun in New Jersey 
On September 30th, the Department of Justice reported that a man from Bloomingdale had been charged with one count of being a convicted felon in possession of ammunition. He was also charged with one count of possession of a machine gun. These charges stemmed from an incident in April of 2022 that involved police responding to a report of domestic violence in Bloomingdale. When they arrived, they encountered a man who claimed to have been threatened by a woman with an AK-47.
The homeowner was then approached by the police, and he eventually revealed a fully-automatic weapon in his residence. The weapon had no serial number and appeared to have been privately manufactured. The individual was faced a total prison sentence of up to 10 years – plus a fine of up to $250,000.
The Vague Legality of Machine Guns in the United States 
To be clear, machine guns are always illegal in New Jersey – whether they are owned by convicted felons or law-abiding citizens who have never committed a crime. However, there is no federal law that states that machine guns are illegal – leading many individuals to label state prohibitions on machine guns as unconstitutional. The truth is that there are many states in which you could theoretically purchase, own, and use a machine gun legally. The exact process of obtaining machine guns legally is a subject for another article – and it is fairly complex. But the fact remains that New Jersey is not a state in which you can legally own a machine gun – and this should come as no surprise when you consider the Garden State's reputation for being tough on gun laws.
Where Can I Find a Criminal Defense Lawyer in New Jersey? 
For help from a skilled New Jersey criminal lawyer, look no further than Phillip J. Murphy, Attorney at Law. With our assistance, you can approach difficult situations like gun charges in a confident, efficient manner. Although the legality of machine guns in the United States is a somewhat confusing subject, you can move forward with clarity and a solid defense strategy. Book your consultation today, and we can help you pursue a positive outcome.
Sources: 
northjersey.com/story/news/new-jersey/2022/07/05/nj-gun-laws-scotus-gun-ruling/65366856007/
justice.gov/usao-nj/pr/passaic-county-man-charged-possession-machinegun-and-felon-possession-ammunition