What Happens When You Try To Take Guns Into An Airport In New Jersey?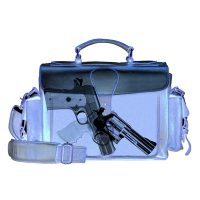 It's always a good idea to be very careful when packing for a flight. If you've never flown before, it can be all too easy to pack prohibited items that could land you behind bars. Of all the things you could put in your luggage, firearms represent the worst possible choice. Putting aside New Jersey's famously tough gun laws, you also need to consider the fact that airports have been subject to insanely stringent security protocols since 9/11. So what exactly if you're caught with guns in a New Jersey airport? How bad could the consequences be?
Man Poses as US Marshall and Attempts to Bring an Arsenal of Weapons onto Flight 
On February 27th, the Department of Justice reported on a very strange incident involving a New Jersey man who had attempted to board a flight to Fort Lauderdale. A routine search of his checked baggage uncovered two 40-caliber magazines and a ballistic vest labeled "US Marshall." As a result, airport security staff searched his other checked baggage and immediately discovered an arsenal of weapons and military-grade equipment.
He had attempted to bring a 40-caliber Glock handgun, a telescopic baton, a taser, an illegal switchblade, a .308 DPMS Panther Arms rifle, and a 5.56 AR-15 – the latter of which was legally classified as a machine gun. But perhaps the most confusing items discovered in his luggage were forged US Marshal credentials. These included a badge, an ID card, and the aforementioned vest. A quick check determined that this individual had no connection with the US Marshals whatsoever.
Needless to say, some very serious questions surround this entire incident. Why did this individual attempt to transport so many firearms? Why did he attempt to pose as a US Marshal? Was this part of some kind of terror attack? Or was it simply a case of a man trying to transport his firearms without going through the normal administrative steps? Did he try to impersonate a US Marshal because he thought this might make it easier to move his firearms? The Department of Justice did not provide any answers.
They did, however, make it clear that this individual faces decades in prison as a result of these actions. The most serious offense is the unlawful possession of a firearm and ammunition by a convicted felon – and this carries a penalty of up to 15 years behind bars.
Where Can I Find a Qualified Criminal Defense Attorney in New Jersey? 
If you've been searching for a qualified, experienced New Jersey criminal defense attorney, look no further than Phillip J. Murphy, Attorney at Law. We know that you can experience all kinds of legal issues due to innocent mistakes at the airport. The good news is that you can defend yourself with confidence and efficiency. During your consultation, we can assess your unique situation and recommend a personalized, effective defense strategy. Get in touch today and start fighting for your rights.
Sources: 
justice.gov/usao-nj/pr/bergen-county-man-charged-possession-machine-gun-rifle-handgun-and-fraudulent-united