What Is Embezzlement?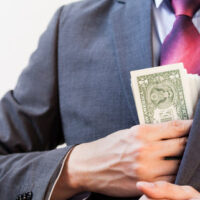 You may have heard the term "embezzlement" before, but do you know what it actually means? For many people in New York, this is just another one of those legal terms that we have only a vague understanding of. Essentially, embezzlement is a type of fraud. If you have been accused of embezzlement, you face serious legal consequences. But what does embezzlement actually look like in the real world, and what kind of consequences might you face if convicted of this crime?
If you have been charged with embezzlement, it makes sense to get in touch with a qualified, experienced criminal defense attorney as soon as possible. The consequences of this crime can be quite serious, but a defense attorney can help you approach this situation in the most efficient way possible.
The Legal Definition of Embezzlement 
In New York, embezzlement is referred to as "grand larceny." This is a type of white-collar crime that involves an entity (often an employee) misappropriating the funds that were entrusted to them. These funds may have been intended to be used to run a business. When these funds are taken and used for things other than their intended purpose, you may be charged with grand larceny in New York.
For example, your boss might give you $350,000 to buy a new cooling unit for the company's warehouse. But instead of buying the cooling unit, you purchase a brand new sports car. You then falsify records to make it seem like you purchased the cooling unit. Another classic example of embezzlement is a Ponzi scheme.
Penalties start to get serious if the embezzled funds exceed $3,000. You could face up to seven years in prison. If the embezzled funds exceed $50,000, you face 15 years in prison. If the embezzled funds exceed $1 million, you face up to 24 years in prison. Grand Larceny in all its forms is considered a felony.
Real-Life Examples of Embezzlement in New York 
In July of 2021, it was reported that an art dealer in New York had been arrested on embezzlement charges. This individual surrendered to the FBI and faced a maximum prison sentence of 15 years. He was accused of "redirecting" over $250,000 in funds from the bankruptcy estate of an LA-based gallery. Also in July of 2021, the former head of a New York ambulance company admitted to embezzling more than $70,000 from his organization. He spent the money on New York Jets football tickets, field hockey equipment, and University tuition costs. He faces up to three years in a state prison.
To wrap up a busy July for embezzlers in New York, a nonprofit founder was also charged with this crime after redirecting more than $17,000 from her dog charity. The SPCA heavily criticized her actions, stating that this money should have been spent on treating, feeding, and housing the dogs that her charity was responsible for taking care of.
Enlist the Help of a Qualified Attorney Today 
If you have been charged with embezzlement in New York, it's important to get in touch with a qualified, experienced criminal defense attorney as soon as possible. Reach out to New York criminal defense attorney Phillip J. Murphy, and you can approach this difficult situation in a confident, efficient manner. We have dealt with numerous cases of fraud in the past, and we can help you employ a number of proven defense strategies. Book your consultation today.
Source:
nytimes.com/2021/07/29/arts/design/gallerist-douglas-chrismas-arrested-embezzlement.html