What Is The Penalty For Burning A Police Car In New York?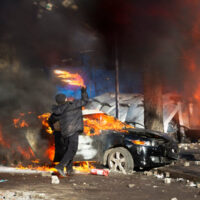 Burning police cars have become some of the most shocking and iconic symbols of recent political unrest in the United States. Some celebrate the destruction of police property, claiming that this is just another example of lawful political protest. Others argue that we should support police officers as the lawfully appointed guardians of our community. Whatever you believe, the law is the law. So what exactly does the law say about burning police cars in New York? What kinds of penalties might you face if you have been charged with this crime?
If you face arson charges, it's very important to get in touch with a qualified, experienced criminal defense attorney in New York as soon as possible. Even if there was no one inside the police car when you set fire to it, you may still face considerable legal consequences. In order to fight for your rights and freedoms in the most efficient way possible, you'll need assistance from a legal professional. Your attorney can help you mitigate potential consequences and pursue a positive legal outcome.
Understanding Arson Laws in New York 
If you "recklessly damage a building or motor vehicle by intentionally starting a fire or causing an explosion," you will likely be charged with arson in the fourth degree. This is assuming that there was no one inside the vehicle when you started the fire. If there was someone inside, you will likely be charged with attempted murder or Arson in the second degree as well. You may also face arson in the first degree if you used an explosive device, such as a Molotov cocktail. Note that it is not a viable defense to claim that you were acting as part of a political protest.
Examples of Defendants Burning Police Vehicles in New York 
There have been a few notable cases of defendants facing serious criminal penalties for burning police cars in New York. In April 2021, two attorneys were offered a plea deal after they had been charged with firebombing a police vehicle. Although the police vehicle was empty, they faced multiple felony charges and potential life sentences for arson conspiracy. The incident occurred in Brooklyn during a political protest, and the defendants were also accused of attempting to distribute Molotov cocktails to onlookers before fleeing in a van.
Police vehicles have been set alight on numerous other occasions in New York. In April of 2021, a police officer's personal vehicle may have been intentionally set on fire due to its NYPD parking placard. In September of 2021, two Brooklyn residents were charged with arson conspiracy after setting fire to an NYPD Homeless Outreach Unit van. They faced up to five years in prison.
Enlist the Help of a Qualified Attorney Today 
If you have been charged with arson or any other crime, you need help from a legal professional. Reach out to New York criminal defense attorney Phillip J. Murphy at your earliest convenience, and we can immediately get to work on an effective defense strategy. With our help, you can avoid unnecessarily harsh legal penalties and fight for your rights in an efficient, confident manner. Book your consultation today.
Sources:
nbcnewyork.com/news/local/nyc-police-union-claims-cops-car-was-set-on-fire/2987450/
justice.gov/usao-sdny/pr/brooklyn-residents-plead-guilty-conspiring-commit-arson-connection-burning-nypd
abc7ny.com/molotov-cocktail-arrest-brooklyn-protests-protest-arrests-sisters-throw-at-police-car/10471245/