What Is The Penalty For Creating Counterfeit Cash In New Jersey?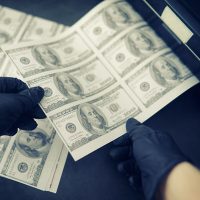 One of the most complaints about the US monetary system is that our money essentially has no value. The first paper bills were promissory notes that individuals could exchange for an equal value of gold or silver. Today, there is not enough precious metal to fund even a tiny fraction of the money in circulation. In fact, the entire solar system and all of its various asteroids probably don't have enough to back each of our dollars with an appropriate amount of gold. But while you might argue that this makes our money "fake," it does not give you an excuse to create your own fake money. Only the Federal Reserve is allowed to do that. But what happens if you're caught creating counterfeit bills in New Jersey?
Examples of Counterfeit Crimes in New Jersey 
On October 28th of 2022, the Department of Justice announced that the New Jersey State Police had assisted in catching a man who had passed counterfeit federal reserve notes. In November of 2021, the defendant passed $1,800 in counterfeit federal notes at a casino in Pennsylvania. He then repeated the scam with another casino a month later. Casinos have been hotspots for money laundering for many years, as you can simply hand over your cash, receive your chips, and then cash them in after a few games. If the authorities aren't watching carefully, it seems as though you simply won a lot of money. This defendant was sentenced to one year in prison, $1,000 in restitution, and two years of supervised release.
In September of 2022, it was reported that a man had attempted to flee from the police after using counterfeit cash at a store in the "American Dream" mall in East Rutherford. He was charged with unlawful possession of a weapon, hindering, tampering with evidence, and criminal mischief.
One of the most notable cases of counterfeiting occurred in March of 2022 when a New Jersey man turned $1 bills into $100 bills using a complex procedure that involved bleaching the paper. He then turned this fake money into real money by buying items with the counterfeit cash. After a few days, he returned the items for cash refunds – receiving real money in exchange. Authorities estimate that this individual may have created up to $235,000 in counterfeit $100 bills since 2019. The defendant eventually led an entire criminal organization based around these counterfeit bills. When he was caught, he was sentenced to five years in federal prison.
Where Can I Find a Qualified, Experienced Criminal Defense Attorney in New Jersey? 
If you've been caught counterfeiting money or committing any other type of fraud, you need to get in touch with a qualified, experienced New Jersey criminal defense attorney as soon as possible. With help from a defense attorney, you can fight for your rights in an effective, confident manner. While the penalties for counterfeiting may be harsh, there's no reason to simply sit back and let the judge throw his book at you. Book your consultation with Phillip J. Murphy, Attorney at Law and get started with a solid defense strategy.
Sources:
 justice.gov/usao-mdpa/pr/scranton-man-sentenced-12-months-imprisonment-passing-counterfeit-united-states
kiro7.com/news/trending/new-jersey-man-sentenced-making-counterfeit-cash-with-bleached-1-bills-officials-say/JFG3Y2OYM5HDRCBSKXFGTR22JU/
patch.com/new-jersey/hasbrouckheights/armed-man-fled-cops-after-counterfeit-cash-use-american-dream-cops