What is the Penalty for Forgery in New York?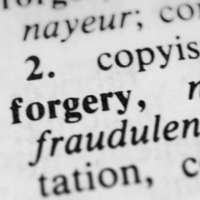 Forgery is probably one of the most common crimes in the world. Many people have engaged in forgery in the past, and perhaps you were one of the many kids who forged your parents' signature while at school. While forgery might seem like a relatively innocuous crime, you can face serious penalties for this act in the state of New York. Depending on the exact circumstances of the situation, you may face long prison sentences and serious fines.
If you have been accused of forgery in New York, you need to get in touch with a qualified, experienced criminal defense attorney as soon as possible. With a legal expert by your side, it becomes much easier to navigate the legal process and fight for your rights in an effective manner.
What is a "Written Instrument?"
A written instrument is the thing that you forged. New York recognizes a wide range of potential written instruments, including:
A deed
A will
A codicil
A contract
A credit card
Public records
Public transportation transfers, tokens, or certificates
Medical prescriptions
Those are just a few examples of what may constitute a written instrument.
Intent is Important in Forgery Cases
According to New York's laws, someone is guilty of basic forgery when they "falsely make, complete, or alter a written instrument with the intent to defraud, deceive, or injure another." The concept of intent is very important if you have been accused of this crime. If you can convince the court that you had no intent to deceive or injure anyone, you cannot be convicted.
The Types of Forgery in New York 
There are a few different "degrees" of forgery in New York. Depending on the various factors associated with your crime, you may face different sets of penalties and consequences related to your forgery:
Forgery in the First Degree: You may be charged with forgery in the first degree if your written instrument was part of an issue of money, stamps, securities, or "other valuable instruments issued by the government." You may also be charged with this crime if your written instrument is part of an issue of stock, bonds, or similar instruments. This is a class C felony.
Forgery in the Second Degree: This crime involves written instruments like deeds, wills, codicils, public records, transportation transfers, or medical prescriptions. This is a class D felony.
Forgery in the Third Degree: If you have forged any written instrument that does not fall into the categories outlined in first or second degree forgeries, you will be charged with forgery in the third degree. This is the least serious forgery charge, and it is a class A misdemeanor. That being said, you may still face one year in prison.
Enlist the Help of a Qualified Attorney Today
If you need help with your case, reach out to dedicated New York criminal defense attorney Phillip J. Murphy,. We have considerable experience with a wide range of criminal cases, including those related to forgery. Although this might seem like a relatively innocuous "white collar crime," it's important to take forgery charges seriously. The best way to do this is to hire a dependable, skilled attorney. Reach out today, and we can develop an action plan together.
Resource:
ypdcrime.com/penal.law/article170.htm#p170.15
https://www.phillipmurphylawyer.com/what-is-the-penalty-for-insurance-fraud-in-new-jersey/