What Is The Penalty For Possessing A Short-Barrelled Rifle In New York?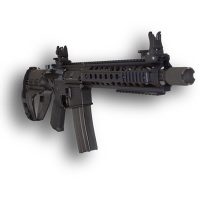 Possessing a short-barreled rifle can lead to serious consequences for gun owners in New York. Even if you are legally allowed to obtain and possess firearms, you may face incarceration if you do not approach short-barrelled rifles in the correct manner. As you will see, it is very easy to face prison time for these offenses, and you may be breaking the law without even realizing it. But what exactly is a short-barrelled rifle, and when might you face consequences for owning one?
Man Sentenced to 20 Months for Possessing Short-Barrelled Rifle 
A recent announcement by the Department of Justice highlights just how serious these incidents can be. On June 26th, the Justice Department reported that a man from Troy had been sentenced to 20 months in prison for illegally possessing a short-barrelled rifle. The weapon in question is a PA-15 Multi-Caliber rifle made by Palmetto State Armory.
A quick glance at Palmetto State's website shows us that the weapon in question was probably an AR-15 pistol variant, which fires a rifle cartridge but is essentially marketed as a pistol. The term "short-barrelled rifle" is somewhat rare, and the gun manufacturer does not actually use this terminology for its products. Nonetheless, these "AR-15 pistols" do in fact look like small rifles rather than pistols, and they come with stocks, barrel shrouds, and other rifle-like features.
Why Did This Defendant Get 20 Months? 
This individual received 20 months in prison because the barrel of this firearm was less than 16". Whether you want to call it a pistol or a short-barrelled rifle, this means that the defendant was required to register the firearm according to the National Firearms Registration and Transfer Record – which he ostensibly did not do.
Long guns do not need to be registered in New York, but all handguns must be registered. Defendants may unwittingly commit firearm crimes because they assume that short-barrelled rifles are long guns. But under New York law, these weapons fall into the same category as handguns, and therefore they must be registered. Although the process may be somewhat time-consuming, it only costs $3 to register a firearm. Going through this process may save you from serious legal consequences.
Where Can I Find a Qualified, Experienced Criminal Defense Attorney in New York? 
If you've been searching for a qualified, experienced New York criminal defense attorney, look no further than Phillip J. Murphy, Attorney at Law. Over the years, we have helped numerous defendants in the New York area – including those facing gun charges. We know that it's often difficult to keep track of these gun laws, especially when they seem to change with each passing month. Book your consultation with us at your earliest convenience and get started with an effective action plan.
Sources: 
justice.gov/usao-ndny/pr/troy-man-sentenced-20-months-unlawfully-possessing-short-barreled-rifle
gunlaws101.com/state/law/new-york/firearm-registration#:~:text=New%20York%20requires%20registration%20of,%243%20to%20register%20a%20firearm.