What Is The Penalty For Possessing Precursors In New Jersey?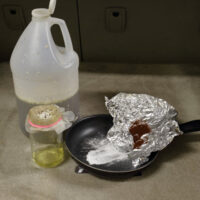 The popularity of shows like Breaking Bad has made it clear that even average citizens with relatively little scientific knowledge can manufacture methamphetamine. However, these individuals need the right supplies to produce this drug, and some of the most important supplies are known as "precursors." Some of these precursors can be obtained legally, while others are more difficult for criminals to get their hands on. However, the authorities in New Jersey are well aware of the potential uses of these precursor chemicals, and there are strict penalties for those who possess them.
If you have been charged with possession of precursors in New Jersey, it's important to get in touch with a qualified, experienced criminal defense attorney as soon as possible. Although this offense isn't quite the same as possession of large quantities of "finished" methamphetamine, the penalties are still significant. Team up with a legal professional, and you can avoid legal consequences as you strive for a positive outcome in court.
What Does New Jersey Consider to be a Precursor? 
New Jersey has a long list of chemicals that are recognized as precursors. These are:
Anhydrous ammonia
Phenylalanine
Carbamide (urea)
Propanedioc and malonic acid or its derivatives
Ergot or an ergot derivative
Diethylamine
Dimethyl-formamide
Diethylamide
Phenylacetone (1-phenyl-2 propanone)
Pentazocine
Methyliodid
Phenylacetonitrile
Dichlorodiethyl methylamine
Dichlorodiethyl benzylamine
Diphenylacetonitrile
Dimethylaminoisopropyl chloride
Piperidine
Cyclohexanone
Cromobenzene
Lithium
Magnesium
2, 5-dimethoxy benzaldehyde
Nitroethane
Reducing agents
Amorphous (red) phosphorus
White phosphorus
Hydroiodic acid
Anhydrous ammonia
Sodium
It's worth pointing out that in many cases, these chemicals are only considered precursors if they are found in combination with other precursors. Possessing only one of these precursors may not be enough to arouse suspicion. However, if you possess two or more of these chemicals that can be combined to aid in the production of meth, it can create a "permissive inference by the trier of fact" that you intended to produce meth.
Penalty for Unlawful Possession of a Precursor 
Unlawful possession of a precursor is considered a crime of the second degree in New Jersey. This means that you will face between 5 and 10 years in prison. You may also face a fine of up to $150,000.
Intent is Important 
The law specifically states that you can only be found guilty if you had the "intent to unlawfully manufacture methamphetamine or any of its analogs." This means that you cannot be convicted if you never actually intended to use these precursors for drug production. With the right legal defense, you can show that you intended to use these chemicals for other purposes, such as cleaning or science experiments.
Enlist the Help of a Qualified Attorney Today 
New Jersey criminal defense lawyer Phillip J. Murphy can assist you if you are facing drug crimes charges. With a considerable wealth of experience in various criminal cases, we have the resources and knowledge to help you achieve a positive legal outcome. Book your consultation today, and we can begin to develop an effective defense strategy together.