What Is The Penalty For Stealing Catalytic Converters In New Jersey?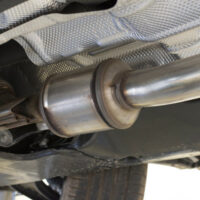 As the economy continues to slide, some people in New Jersey are getting desperate. In previous decades, many criminals would have dismissed the potential of stealing components from parked cars – but today this is becoming a nationwide issue. And perhaps the most valuable item that can be stolen from a parked car is a catalytic converter. These are small devices that control emissions, converting certain toxic gasses and pollutants into cleaner variants. But what happens if you get caught stealing catalytic converters in New Jersey?
If you have been charged with this crime, you should get in touch with a qualified, experienced criminal defense attorney as soon as possible. These legal professionals can help you strive for the best results and avoid legal consequences in a highly efficient manner. Although catalytic converter theft is being taken very seriously in the United States today, there's no sense in accepting penalties that are needlessly harsh. A defense attorney can help you mitigate many of the potential consequences you might be facing, including jail time.
Catalytic Converter Theft Is on the Rise in New Jersey 
Catalytic converter theft is becoming a major issue in New Jersey. Numerous catalytic converter thefts occur every week in the state, and criminals are now stealing these components from cars parked right outside owners' homes. One car owner alone suffered losses of $2,400 when a catalytic converter and two sensors were taken (1). Some of these devices contain precious metals such as platinum, and they can be re-sold for as much as $250 each. But car owners bear the real costs of these thefts, as a replacement can cost as much as $3,000. In addition, skilled thieves can remove catalytic converters as quickly as five minutes.
Four Catalytic Converter Thieves Arrested in New Jersey 
On May 12th, the Department of Justice reported that four individuals had been arrested on charges related to an "interstate catalytic converter scheme." The individuals in question had been linked to at least 15 thefts of the auto components, and the defendants apparently stole the items in New Jersey before transporting them to New York – presumably to sell them (2).
The police apprehended the suspects and discovered seven additional catalytic converters in their vehicle. These defendants face a particularly strict penalty because they transported stolen goods across state lines. This meant that they faced up to ten years in prison and a maximum fine of $250,000. This just goes to show how serious catalytic converter theft can be – especially if you steal multiple devices over a period of time and then transport them across state lines.
Enlist the Help of a Qualified Attorney Today 
Dedicated New Jersey criminal defense attorney Phillip J. Murphy is prepared to assist you with your case. With our assistance, you can push back against charges associated with theft or any other crime you allegedly committed. Book your consultation today, and we can get started on an effective defense strategy right away.
Sources: 
fox5ny.com/news/nj-town-sees-catalytic-converter-thefts-spike
justice.gov/usao-nj/pr/four-men-arrested-interstate-catalytic-converter-thefts