What Is The Penalty For Touching A Woman Without Consent In New Jersey?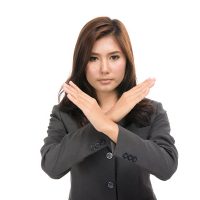 As a general rule, it's always a good idea to obtain clear consent before touching someone else. Many people don't like to be touched – especially not by strangers. Even if the touching occurs in a non-sexual manner, it can make some individuals extremely uncomfortable. What you intended to be a friendly pat on the shoulder could be interpreted as something completely different. Many people are naturally more "touchy-feely" than others, and this may be due to different cultural backgrounds and upbringings. But what happens if you touch a woman without her consent? What penalties might you face in New Jersey?
Man Faces Ten Years in Prison for Touching Woman on Plane 
On June 20th of 2023, the Justice Department reported that a man had admitted to assaulting a female passenger on a flight to Newark Liberty International Airport. This individual pleaded guilty to assault with intent to commit another felony: Stalking. The charges stem from an incident in which the defendant sat next to a woman on a plane and touched her without her consent. This individual is now facing up to 10 years in prison and a fine of up to $250,000.
But this was not simply "touching," and it classifies as assault under New Jersey and New York law. The individual actually groped the woman, touching her private areas despite her screams and protestations. In addition, the charges are likely more serious because they occurred on a flight, as there is always a heightened degree of security when it comes to air travel.
Can You Go to Prison for Touching Someone without Consent? 
Generally speaking, unwanted touching only results in serious criminal charges if it is violent or sexual in nature. If someone is uncomfortable with the way you are touching them, you should always listen to their protestations – regardless of whether the touching occurred in an "innocent" fashion (such as a pat on the shoulder). If you continue despite their objections, you may face charges of harassment or even assault.
When the touching is of a sexual nature, however, the penalties become much more serious. The definition of sexual touching can be elusive, but it mostly depends on the location of the touching and the circumstances. For example, touching someone's private areas will clearly be interpreted as sexual touching.
Where Can I Find a Qualified Defense Attorney in New Jersey? 
If you've been accused of touching a woman without her consent, it makes sense to get in touch with a defense attorney as soon as possible. These situations can be blown way out of proportion if you're not careful, and a qualified New Jersey defense attorney can help you mitigate any consequences you might be facing. Choose Phillip J. Murphy, Attorney at Law and immediately begin approaching this situation in a confident, efficient manner. Book your consultation today.
Sources: 
justice.gov/usao-nj/pr/new-york-man-admits-assault-airplane
nj.com/essex/2021/04/man-on-flight-bound-for-newark-groped-woman-sitting-next-to-him-authorities-say.html