What Is The Penalty For Trafficking Wild Animals In New York?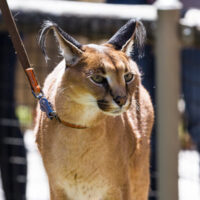 While owning a pet is perfectly legal in New York, there are also strict laws that govern the sale of animals. Certain animals, no matter how cute they may be, are illegal to own as pets. While owning one of these pets may result in serious legal consequences, you face much greater penalties if you are running a business that organizes the transport and sale of these exotic animals. The Empire State takes these matters very seriously, and guilty parties can be sent to prison for many years.
If you are facing charges related to exotic animals in New York, get in touch with a qualified, experienced criminal defense attorney as soon as possible. These legal professionals can help you fight for your rights in an effective manner. With their help, you can mitigate many of the potential legal consequences you might be facing. The sooner you get in touch with a defense attorney, the better your chances become.
Man Gets 18 Months for Trafficking Wild Cats in New York 
On October 18th, it was reported that a man in New York had been sentenced to 18 months in prison for trafficking wild cats from Africa. The 39-year-old had been running his own website through which customers could order their own African cats. He sold both caracals and servals, although he fraudulently labeled both of these wildcats as Bengal cats or Savannah cats during the transportation process. These cats were sold for between $7,500 and $10,000 each.
This individual broke a number of laws while running this illicit business. Firstly, he violated the Lacey Act, which specifically prohibits the transport of wild animals. Secondly, he violated the Animal Welfare Act. In addition, both Servals and Caracals are protected under the Convention on International Trade in Endangered Species of Wild Fauna and Flora, otherwise known as CITES.
Although these animals were marketed as house pets, they are clearly unsuitable for life in a typical New York home. Caracals grow to a considerable size, eventually reaching weights of around 45 pounds in adulthood. These animals are also known as desert lynx. Servals are slightly smaller, although they eventually reach weights of 40 pounds. Tragically, many of the kittens under this individual's care died. Many more died after being sold. However, authorities managed to seize and rescue a number of the kittens. Somewhat ironically, this animal trafficker claimed that he was operating a big cat rescue operation. He was originally indicted in 2020 and was eventually sentenced to 18 months in prison.
Enlist the Help of a Qualified Attorney Today 
For help from a skilled New York criminal attorney, contact Phillip J. Murphy. Over the years, we have helped defendants fight a wide range of charges, and we can guide you towards a positive legal outcome. Charges related to trafficking exotic animals may be quite serious, but you can still fight for your rights in an effective manner. Book your consultation today.
Source:
justice.gov/opa/pr/new-york-man-sentenced-18-months-prison-trafficking-exotic-african-cats