What You Need To Know About New Jersey's New Hate Crime Initiative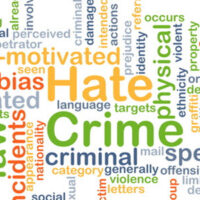 Most people can agree that hate crimes are absolutely unforgivable. Targeting a specific individual because of attributes they cannot control is obviously one of the worst crimes you can commit in the United States. In New Jersey, this is known as a "hate crime." But while many people can agree that hate crimes are wrong, a surprising number of individuals cannot actually define what a hate crime is. This is understandable, since the legal definition of a hate crime varies from state to state, and it is actually quite vague. Unfortunately, the situation is even more confusing because the state of New Jersey continues to redefine and update its hate crime laws.
If you have been charged with a hate crime, it is imperative that you get in touch with a qualified, experienced criminal defense attorney as soon as possible. With help from one of these attorneys, you can strive for the best possible outcome in the most efficient way possible. Often, this involves having hate crime charges dropped entirely, allowing you to face consequences for the "normal" version of the crime without any aggravating factors. In many cases, this makes all the difference.
United Against Hate 
On April 20th, the Department of Justice announced that a new program called "United Against Hate" had been launched in New Jersey. The goal of this program is to connect federal, state, and local law enforcement with marginalized communities to build trust and a reliable system for reporting hate crimes. This comes just months after a Civil Rights Division within the US Attorney's Office was created.
So what does this all mean? Well, the legal definition of a hate crime will stay the same, as will the punishments connected to hate crimes. However, those who commit hate crimes will likely find it much more difficult to escape consequences, as there are now considerable resources and personnel specifically dedicated to fighting hate crimes in New Jersey.
New Jersey Man Assaults Jews 
On the very same day the "United Against Hate" initiative was announced, the Department of Justice also reported that a New Jersey man had been charged with a series of violent attacks against Orthodox Jews. This individual was charged with federal hate crimes and now faces three consecutive life imprisonment terms, another 10-year prison term, a 15-year prison term, and multiple fines.
Among his crimes include carjacking an Orthodox Jew, beating him, and stealing his car. Later that day, he deliberately crashed his car into another vehicle driven by an Orthodox Jew. Less than an hour later, he struck two pedestrian Orthodox Jews with his vehicle.
Enlist the Help of a Qualified Attorney Today 
Skilled New Jersey criminal defense lawyer Phillip J. Murphy is prepared to assist you with your case. With help from our team, you can strive for the best possible results – whether you have been charged with a hate crime or any other offense. It's always a good idea to book your consultation as soon as possible so you can get started on an effective defense strategy right away.
Source:
justice.gov/usao-nj/pr/us-attorney-sellinger-announces-launch-anti-hate-crime-initiative-new-jersey