What You Need To Know About "Straw Purchasing" In New Jersey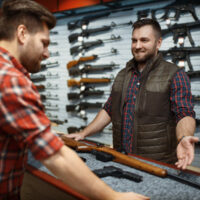 New Jersey has strict gun laws, but even the most stringent regulations can be overcome by determined criminals. In some cases, these regulations aren't actually very difficult to overcome. Take the phenomenon of "straw purchasing," for example. In this situation, an individual simply purchases a gun on someone else's behalf. The person who ultimately ends up with the firearm may be a felon, an underaged individual, or someone who is struggling with mental health issues. But what happens if you get caught engaging in this behavior?
If you are facing criminal charges due to "straw purchasing," it makes sense to get in touch with a qualified, experienced criminal defense attorney as soon as possible. With help from one of these legal professionals, you can pursue a positive outcome in a confident, effective manner. Although New Jersey takes its gun laws very seriously, it doesn't make sense to simply accept legal consequences without putting up a fight in court.
Man Faces 3 Years for Straw Purchasing 
On December 8th of 2021, it was reported that an individual in Pennsylvania was facing three years in prison after lying on a federal form during a gun purchase. This individual purchased four 9mm Taurus pistols from a gun store alongside two other men. These men were caught on camera instructing the purchaser as to which guns to buy. The man who purchased the firearms stated on the federal form that these guns were for personal use only.
Later, the two other men were caught by police in New Jersey after committing a crime. They led police on a car chase, at one point throwing the pistols out of their vehicle. Police later recovered the weapons and tracked them down to the man who originally purchased them. This individual now faces considerable consequences as a result. This shows how serious it can be if you purchase guns for someone else while claiming they are for personal use.
Additional Considerations 
With all this said, it's worth pointing out that if a crime is never committed by the recipient, it's unlikely that you will ever face legal consequences for purchasing a gun for someone else. You can also transfer ownership of firearms legally, but you must clearly communicate who is receiving the weapon, and you must register the transfer with the authorities. 
This Was a Major Aspect of the Rittenhouse Trial 
One of the most famous trials in recent years was the Rittenhouse trial, and this also involved the concept of "straw purchasing." Rittenhouse's friend, Dominick Black, actually purchased the firearm used in the incident on his behalf, since Rittenhouse was not old enough at the time. As a result, this older friend faced criminal charges. 
Enlist the Help of a Qualified Attorney Today 
Skilled New Jersey criminal attorney Phillip J. Murphy can help you if you are currently facing charges. Over the years, we have helped numerous defendants pursue positive legal outcomes, including those facing gun charges. "Straw purchasing" can be a serious issue, but you can avoid unnecessarily harsh penalties with our assistance. Book your consultation today, and we can immediately get started on an effective defense strategy.
Source:
timesonline.com/story/news/2021/12/08/beaver-county-man-charged-illegally-purchasing-guns-during-2020/6430650001/