When Does Evidence Get Dismissed In A Criminal Case?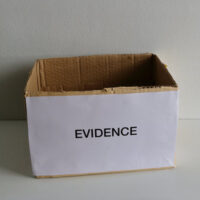 Even when there are piles of evidence stacked up against you, there's always a chance that you'll walk away with your freedom intact. In fact, there are many reasons why evidence may be thrown out of court, and it may be easier to have it dismissed than you expected. Even when evidence clearly shows that you have committed a crime, there are technicalities and regulations that may make it impossible to use in court.
The best way to attack the credibility of certain evidence is to work with a qualified, experienced criminal defense attorney in New Jersey. These legal professionals can help you strive for the best possible outcomes in a confident, efficient manner. With their assistance, you can have evidence thrown out of court, allowing you to protect your rights and freedoms to a considerable extent.
The Evidence Was Collected In an Illegal Manner 
Firstly, evidence can be suppressed if it was collected or compiled in an illegal manner. The classic example is evidence collected due to an illegal search. Police must obtain a search warrant if they want to search your property. If they fail to do this and find evidence of a crime, that evidence typically cannot be used against you.
Another example involves a recording device that tapes a conversation without your knowledge. Due to wiretapping laws, someone must ask your permission before taping your conversation. If they fail to do this, any resulting evidence becomes inadmissible in court.
In addition, there are new forms of surveillance technology that haven't yet been approved in New Jersey. This includes facial recognition technology, which has faced significant public opposition in the Garden State since being proposed for widespread use by law enforcement. If evidence is collected by using this unapproved technology, it cannot be used in court against you. 
The Evidence Was Mishandled 
If evidence is mishandled, tampered with, or contaminated in any way, it cannot be used in court. For example, a gun that is planted in your vehicle cannot be used as evidence – but only if you prove that the evidence was planted. Evidence that is left unattended for long periods of time may also be suppressed, as just about anyone could have tampered with it while it was unsupervised. In addition, DNA evidence can become contaminated under certain circumstances, making it unreliable. 
Challenging Witnesses 
Finally, you can challenge the reliability of certain witnesses. Those who are obviously biased or have a conflict of interest cannot be relied upon to give trustworthy statements. The same goes for those who have a history of lying or many past criminal offenses.
Enlist the Help of a Qualified Attorney Today 
Skilled New Jersey criminal defense attorney Phillip J. Murphy can help you fight any charges you are facing. Over the years, we have helped numerous defendants in the New York area, and we know how to attack the credibility of various forms of evidence. With our assistance, you can fight for your rights in an effective, confident manner. Book your consultation today, and we can explore a wide range of potential defense strategies together.
Source:
newjerseymonitor.com/2022/02/25/a-g-mulls-statewide-policy-on-facial-recognition-technology/