When Does Tax Avoidance Become Tax Evasion?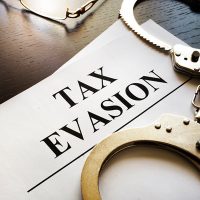 It makes sense to lower your tax bill as much as possible. Whether you're earning minimum wage or you're raking in millions each year, there's nothing wrong with exploring legal options to reduce this burden. But with that said, there is a fine line between tax avoidance and tax evasion. The latter may result in serious financial consequences, and sometimes it's a little too easy to stray into this territory.
Tax Avoidance vs. Tax Evasion 
Simply put, tax avoidance is legal while tax evasion is not. The IRS states that tax avoidance involves full compliance of the law, and it is intended to reduce liability through careful planning. On the other hand, the IRS denounces tax evasion as "unfair and blatant fraud," and stresses that anyone who tries this may be punished.
Examples of tax evasion include:
Falsifying records
Not reporting income
Inflating expenses
Hiding interest
Using company property for personal use
Examples of tax avoidance include:
Establishing a corporation to pay a lower tax rate
Contributing to a qualified retirement account
Offshore accounts (in some cases)
Claiming work-related expenses
Certain loan schemes
Tax Advisor Arrested for Helping High-Income Americans Hide Millions 
On July 14th of 2023, it was reported that an international tax advisor had been arrested for helping high-income Americans hide over $100 million. Most of the money being concealed was earned outside of the United States. As many Americans are aware, the United States has a very unique tax system compared with the rest of the world. It is essentially the only nation that taxes its residents based on their citizenship rather than their place of residence. For example, a Canadian citizen living in Europe could file taxes in their place of residence – but an American citizen would still need to file taxes with the IRS. The defendant allegedly helped clients circumvent this issue – potentially allowing them to avoid double taxation.
The defendant is said to have helped well known DJs and fashion industry figures conceal income. He is said to have used a variety of techniques, including the fraudulent transfer of companies to overseas family members. The Justice Department also claims that he helped various "internationally renowned" DJs utilize offshore accounts. He faces one count of conspiracy to defraud the United States and five counts of aiding and abetting the filing of false tax returns. Together, he faces a maximum of 20 years in prison.
Where Can I Find a Qualified Defense Attorney in New York? 
If you have been accused of tax-related offenses, be sure to get in touch with a qualified, experienced New York criminal defense attorney at your earliest convenience. Choose Phillip J. Murphy, Attorney at Law to get started with an effective defense strategy. Fraud, tax evasion, and related offenses may result in serious penalties. An experienced attorney can help you mitigate or even avoid these penalties. Book your consultation today to get started.
Source: 
justice.gov/usao-sdny/pr/international-tax-advisor-arrested-helping-conceal-over-100-million-income-high-net