Why Are Some New Jersey Cities Banning Backpacks?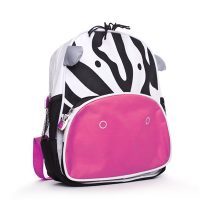 Backpack bans have been around for quite some time, and a number of states and municipalities across the nation have played with this idea. The law targets teens and children, and the goal is to keep society safe. But how exactly do backpack bans work in practice? How are these laws even enforced? What might happen if your child is found with a backpack in the wrong location? What legal consequences might they face? These are all important questions that may arise if your child has violated backpack bans in certain areas.
Sea Isle City Bans Backpacks on Beaches 
On March 29th of 2023, it was reported that Sea Isle City had banned backpacks on its beaches. This new ordinance was passed alongside a 10 PM curfew. The goal was to "reduce juvenile violence" and discourage teens from bringing weapons and drugs to the beach. All bags larger than 6 x 8' are now banned. This includes not only backpacks, but also luggage, camera bags, briefcases, coolers, fanny packs, and so on. Sea Isle City is not the first community on the Jersey Shore to adopt this kind of law.
If someone brings a backpack to the beach, they will be asked to leave by the police. Police are authorized to issue two warnings to violators before writing tickets. If they fail or refuse to leave, police will consider this a breach of peace violation. Although there is no real threat of incarceration, adults may face up to $100 in fines for their first offense. These fines continue for subsequent offenses, eventually reaching sums of well over $250 per offense.
For teens who violate the backpack law, they may be taken to a police station if they repeatedly refuse to comply. Their parents will then be called. But aside from these consequences, juveniles face virtually no consequences for breaching the peace in this manner. They will not be fined, and they will not be given court summons. However, if parents knowingly allow their children to violate the city's 10 PM curfew, they may be fines up to $1,500.
Are Backpack Bans Even Effective? 
Consider the stated goals of the backpack ban: To discourage teens from bringing drugs and weapons to the beach. As we all know, drugs can be carried in bags smaller than 6×8'. In fact, someone could stuff hundreds or even thousands of pills down their pockets. Furthermore, there are many weapons that could easily fit in small bags – including compact pistols and knives. One has to ask themselves whether this ordinance will actually achieve anything.
Where Can I Find a Qualified, Experienced Criminal Defense Attorney in New Jersey? 
If you've been searching for a qualified, experienced New Jersey criminal defense attorney, look no further than Phillip J. Murphy, Attorney at Law. We know that it can be incredibly daunting to learn that your child is facing criminal charges. The truth is that there are many problems with the backpack ban, and some might argue that it is unenforceable in court. Whether you want to appeal fines or fight for your child's rights, we're here to help. Book your consultation today to get started.
Sources 
phillyvoice.com/sea-isle-city-curfew-juveniles-backpack-ban-teens-fines-ocean-city/
boredpanda.com/school-backpacks-ban/?utm_source=google&utm_medium=organic&utm_campaign=organic