Why You Should Never Cross State Lines With Stolen Goods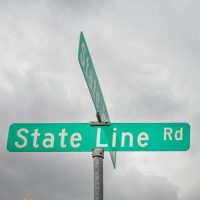 We live in a period of economic uncertainty, and during times of serious pressure, people often become desperate enough to steal. The temptation to steal is even greater due to the serious wealth divide in the United States – where a small percentage of the population have access to near limitless funds while the rest struggle to make ends meet. But if you feel that you must steal, you should avoid crossing state lines with your stolen merchandise at all costs. Although this might seem like a minor detail, moving across state lines automatically makes your criminal consequences much worse in New Jersey.
Transporting Stolen Goods Across State Lines is a Federal Offense 
If you transport stolen goods across state lines, you will face federal charges that go beyond what you would normally face for transporting stolen goods within New Jersey. If the stolen goods are worth $5,000 or more, you will face up to ten years in prison. If the value of the stolen goods is less than $1,000, you will face up to one year in prison.
What Happens When People Get Caught? 
On January 24th of 2023, it was reported that a man had been indicted for moving stolen jewelry across New Jersey and New York state lines. This individual made two trips in 2022 – one in June and one in July. On one of these journeys, he transported jewelry from Union County, New Jersey to New York. Since the value of the jewelry was more than $5,000, the defendant now faces up to 10 years in prison and a $250,000 fine.
On January 23rd of 2023, it was reported that three individuals had been indicted for transporting stolen goods across state lines. These defendants had committed a so-called "smash and grab" robbery at a Gucci store in Massachusetts, stealing a staggering $32,000 of luxury items. They then left the store and traveled back to their place of residence in the Washington, D.C. area. After a police investigation, it was found that their vehicle was linked to a number of shoplifting offenses in the Virginia area. If they had simply limited themselves to the shoplifting offenses and kept the stolen goods within the state, they wouldn't be facing such serious consequences. However, they now face a number of charges, including conspiracy to transport stolen goods, and transporting stolen goods across state lines. For the first charge, they face up to five years in prison. For the second charge, they face up to 10 years in prison, three years of supervised release, and a fine of up to $250,000.
Where Can I Find a Qualified, Experienced Criminal Defense Attorney in New Jersey? 
If you've been searching for a qualified, experienced New Jersey criminal defense attorney, look no further than Phillip J. Murphy, Attorney at Law. Over the years, we have helped numerous defendants strive for the best possible results. Whether you're facing simple theft charges, shoplifting charges, or federal charges related to moving stolen goods across state lines, we can help you get started with a solid defense strategy. Time is of the essence, so book your consultation today.
Sources:
law.cornell.edu/uscode/text/18/2314
justice.gov/usao-nj/pr/brooklyn-man-indicted-interstate-transportation-stolen-goods
justice.gov/usao-ma/pr/three-indicted-stealing-more-32000-high-end-goods