Will New York's Elimination of the Gay & Trans Panic Defense Be Challenged in Court as Violating Due Process Rights?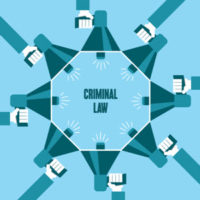 Earlier this summer, New York banned what is known as the gay and trans panic defense, which precludes criminal defendants from raising the defense that they suffered an emotional disturbance that affected their actions upon discovering the victims of sexual orientation or identity. Although never relied on as an official defense, in some cases, juries have arguably used the reasoning to mitigate a homicide charge down to manslaughter.
While the sentiment behind the defense has always arguably been abhorrent, a number of criminal defendant advocates have raised concerns that state legislatures barring any affirmative defenses is concerning because it violates all criminal defendants' right to due process by preventing them from raising particular defenses, and this can lead to a slippery slope regarding where to draw the line as to what criminal defendants can and cannot allege and use as evidence in building their defense, as we discuss below.
The Defense's History In New York
The "gay panic defense" is historically rooted in the theory that homosexuality was a mental disorder and therefore that homosexual panic disorder was also a psychological disorder in the 20th century. While a number of juries have rejected the gay panic defense in a legal setting, in New York, the defense was used during a plea-bargaining process in 2013, when a transgender woman was attacked by a defendant who claimed that he went into a fury when he realized he was speaking with a transgender woman. The defendant in that case pled guilty to manslaughter and received 12 years in prison, while the victim's family argued that sentence should have been harsher and was only mitigated due to this trans panic defense.
The Due Process Argument
Since the explicit or implicit use of the defense was banned in New York earlier in 2019, some criminal defense advocates and attorneys issued statements indicating that any legislative prohibition that limits the ability for a defendant to mitigate or justify their conduct by being able to rely on a specific defense is concerning and violates the due process clause of the US Constitution, which explicitly provides the right to the accused to present evidence indicating that their actions were excused, justified, or mitigated in some way. And while at the core of the defense are, again, very concerning and abhorrent sentiments – including homophobia – eliminating the defense arguably infringes on a defendant's right to defend themselves, period, and is arguably not the appropriate means to correct these phobias as social illnesses.
When Legislatures Can Qualify The Use Of A Defense
As a result, the new law may very well be challenged in court here in New York. In looking at how the court might rule, while the US Supreme Court has upheld the due process clause guaranteeing criminal defendants a meaningful opportunity to present their defense, this right is not absolute, and legislatures can qualify defenses relied on in court. For example, the right to use lethal force during self-defense includes a duty to retreat, and claiming ignorance is not a permissible defense to committing a crime, in general. In addition, citing a mistaken belief in the age of the victim is not permissible to raise as a defense to rape charges.
Historically, the Supreme Court has looked at whether the law offends some principle of justice rooted in the traditions is to be ranked as fundamental in deciding whether the state can limit a defense that is challenged under the due process clause. The court also seeks to balance society's interest against the right of the accused; for example, courts have limited a defendant's right to present a particular defense in the interest of providing increased protection to victims. Given that the gay panic defense is recent and arguably not rooted in the traditions of our legal system, the defense likely will not meet the threshold for being considered "fundamental."
Contact Our New York Criminal Defense Attorneys with Any Questions
If you have been accused of a violent crime, contact our experienced New City criminal defense attorneys at the office of Phillip J. Murphy today to find out how we can provide our services.
Resources:
law.com/newyorklawjournal/2019/08/02/new-york-eliminates-a-criminal-defense-a-due-process-violation/
washingtonpost.com/news/morning-mix/wp/2016/04/04/the-islan-nettles-killing-what-the-trial-means-to-a-transgender-community-anxious-for-a-reckoning/
https://www.phillipmurphylawyer.com/new-york-police-departments-misconduct-lawsuits-reach-sky-high-numbers/