Yakuza Boss Facing Life After Trying To Trade Surface-To-Air Missiles For Drugs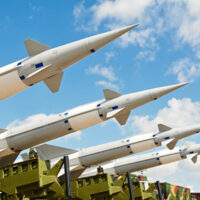 The Yakuza is one of the most famous criminal organizations in the world. Hailing from Japan, these highly organized criminals are active across Asia and the Americas. They are also quite active in New York, and recently one New York Yakuza boss was arrested along with several associates for a stunning crime. According to the Justice Department, this criminal overlord was trying to set up a deal that would put American-made surface-to-air missiles (also known simply as "SAMs") in the hands of ethnic groups located in Burma. In exchange, he expected to receive thousands of pounds of drugs. Unfortunately for this Yakuza member, his plan went awry when it became clear his organization had been infiltrated by an undercover DEA agent.
If you are facing charges related to organized crime, it's probably best to get in touch with a qualified, experienced criminal defense attorney in New York as soon as possible. These legal professionals can represent your best interests in a confident, efficient manner. With the assistance of a defense attorney, you can fight for your rights and strive for the best possible outcome, mitigating any potential consequences you might be facing.
How the Deal Went Wrong 
Initially, the Yakuza boss in question got in touch with a man who claimed to have access to US-made surface-to-air missiles. This individual told the Yakuza boss that these weapons systems had been left behind by withdrawing US forces after the Afghanistan conflict, and that they were available for sale to the highest bidder. The Yakuza boss then got in touch with potential buyers – armed ethnic rebels in Burma. He proposed a relatively straightforward deal: He would provide the missiles in exchange for over a thousand pounds of heroin and meth. The plan was to sell these drugs in the United States for a considerable profit.
But there was only one problem: the missiles didn't actually exist. The man who said he had access to these weapons was actually an undercover DEA agent, and he was making it all up. When the time was right, the DEA agent called in backup and the entire Yakuza crew involved with this deal was arrested. Now, the Yakuza boss (described only as "Ebiswa") and his associates are facing life in prison. Perhaps the most notable charge they face is "conspiracy to acquire, transfer, and possess SAMs." The other notable charge is conspiracy to possess destructive devices. Both of these charges involve a maximum penalty of life imprisonment. Ebiswa also faces charges of money laundering, which carries a maximum sentence of 20 years in prison.
Enlist the Help of a Qualified Attorney Today 
Dedicated New York criminal defense lawyer Phillip J. Murphy can help you fight the charges you are facing. Over the years, we have helped numerous defendants pursue the best possible outcomes. Whether you're facing weapons-related charges or drug-related charges, you can still fight for your rights in an effective manner. Book your consultation today to learn more.
Source:
theguardian.com/us-news/2022/apr/07/us-japan-yakuza-takeshi-ebisawa-crime-drugs-weapons