Brooklyn Jews Targeted By Arson Attacks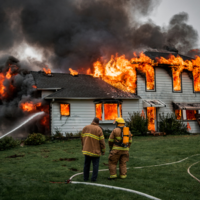 Arson is one of the most serious crimes someone can commit. Unlike a targeted assault or attack on someone, arson is a wanton act of destruction with no real precision or order. A fire can easily spread, injuring or killing people who are completely innocent. Setting fire to a building can also trap people inside, causing them to slowly burn to death or suffocate. It's not a pleasant way to go, and it should come as no surprise that New York approaches this act in a very serious manner.
If you have been accused of arson in New York, you should know that you face serious legal consequences. This is why it's so important to get in touch with a qualified, experienced criminal defense attorney as soon as possible. The sooner you connect with a legal professional, the sooner you can start approaching your charges in an efficient, calculated manner. With the right defense strategy, you can avoid a slew of serious consequences for your actions.
Anti-Semitic Arson in Brooklyn
In May of 2021, it was reported that a Brooklyn man had been charged with arson after attempting to burn down a synagogue and a Jewish school. The man had allegedly set fire to a pile of garbage bags outside the door of the synagogue, which led to a fire alarm being triggered. The fire was put out, but the man continued his crime spree and was later filmed punching a Jewish man in the head. In the past, this particular individual had defaced Christian crosses and burned American flags.
What is the Penalty for Arson? 
The penalties for arson can vary considerably. Arson in the fifth degree is only a class A misdemeanor with a maximum jail sentence of one year. This is when you essentially cause a bit of property damage with your fire without any real harm to anyone. However, things become much more serious if you are charged with more serious arson charges, such as arson in the first degree. This is when you know for a fact that there are people in a building before you set fire to it, and you know that what you're about to do will harm those people. This is a class A-1 felony that involves a potential life sentence and a minimum sentence of 15 years.
In addition, arson charges can become much more serious if you are charged with a hate crime. If it is clear that your actions were motivated by bias against a particular group of people (such as Jews), you would likely face a much more serious sentence – even if you are guilty of a relatively minor arson charge, such as arson in the fifth degree.
Enlist the Help of a Qualified Attorney Today
If you've been searching for a qualified, experienced New York criminal defense attorney, reach out to Phillip J. Murphy, Attorney at Law. Thanks to a wealth of experience with various criminal cases, Phillip J. Murphy is well-equipped to handle virtually any charges you might be facing, including those related to arson. Reach out today and book your consultation. We can help you move forward and fight for your rights.
Resource:
nysenate.gov/legislation/laws/PEN/150.01
https://www.phillipmurphylawyer.com/penalty-for-covid-relief-fraud-in-new-york/