Can You Lie to a Police Officer in New Jersey?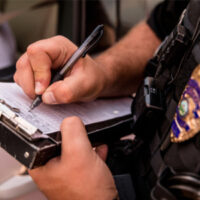 When you are confronted by a police officer, it can be an extremely stressful experience. You may not be sure of how to act or what to say. You may be scared for your life. In these circumstances, it's not surprising that many innocent citizens choose to lie to a police officer. There are a number of reasons why someone would want to lie to a police officer, and it doesn't necessarily make you a bad person. In some situations, we're simply reacting on autopilot in a very stressful situation.
Unfortunately, lying to a police officer can result in significant legal consequences. If you have been charged with obstruction of justice, "hindering apprehension or prosecution," or any similar crime, it's important to get help from a qualified, experienced criminal defense attorney as soon as possible. These legal professionals will fight for your rights without judging the circumstances of your situation. With the help of a skilled criminal defense attorney, you may be able to completely avoid jail time and fines.
Obstruction of Justice
According to New Jersey law, a person may not obstruct, impair, or pervert the administration of law. You are also not allowed to prevent a public servant (such as a police officer) from performing an official function. The specific methods of obstruction listed include:
Flight (running away)
Intimidation (making threats)
Force
Violence
Any other independently unlawful act
Lying to police is an example of obstruction of justice. However, this only constitutes obstruction of justice if your lies actually prevent the officer from doing their job. In addition, your lies must have prevented the officer from doing something that they were legally allowed to do. These limitations mean that simply lying to a police officer is not always enough to warrant an obstruction of justice charge. The prosecutor must prove that you lied for the specific purpose of preventing the police officer from doing their rightful duties.
Hindering Apprehension or Prosecution
Lying to police may also fall under the category of "hindering apprehension or prosecution." Under New Jersey law, you are guilty of this crime if you:
Harbor or conceal a criminal
Help a criminal escape capture
Hide, suppress, or tamper with witnesses or evidence
Warn a criminal of impending capture
Give false information to a police officer
Keep in mind that even if you destroy evidence that is inadmissible in court, you will still be charged with this crime.
Other Related Crimes
In addition, you may also face consequences if you show a fake ID to a police officer, or if you encourage a witness to give false testimony.
The Importance of Getting Legal Help
As you can see, there are two crimes that you may be charged with if you lie to a police officer. However, talented New Jersey criminal defense attorneys also have many tricks up their sleeve to help you avoid negative consequences. Reach out to Phillip J. Murphy today and get the help you need to fight for your freedom.
https://www.phillipmurphylawyer.com/what-happens-when-you-drive-without-a-license-in-new-jersey/