Defendants Lingering in Jail & The Sixth Amendment Under Siege During COVID-19: What's Next?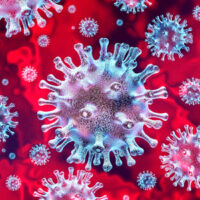 There is no question that the pandemic has completely changed how we practice criminal justice and what we consider to be ensuring that criminal defendants are provided with their constitutional rights. And while our society may be willing to make compromises when it comes to civil rights on a temporary basis in the face of a national emergency, many would also argue that, when it comes to COVID-19, things have simply gone too far.
For example, while law enforcement and the Department of Justice has unquestionably conducted arrests and investigations that stretch our existing criminal statutes beyond what many of them were intended for–whether that involves accusing individuals who violate social distancing and cough on someone of being a terrorist, or prosecuting nursing homes that fail to report death numbers due to the virus for fraud under the False Claims Act, etc.—many of these charges will likely be overturned by the courts once that they reopen for going too far. However, beyond these individual decisions, there are constitutional and civil rights concerns that are arguably even more concerning, and that includes violations of defendants' Sixth Amendment rights.
What Has Changed About Our Rights Since the Pandemic?
The Sixth Amendment, in part, guarantees our right to a speedy trial, the assistance of counsel, and to be confronted with witnesses against us. However, due to the pandemic, criminal jury trials have, at the moment, been postponed or suspended, defendants have longer speedy trial limits, grand juries have been put on hold, courthouses are closed, attorneys are having difficulty meeting with their clients, and a number of defendants are simply sitting in jail awaiting trial indefinitely even though they have not been convicted of an actual crime at this time. In fact, according to estimates, more than 630,000  people are held in local jails every day, and approximately 75 percent of them have not been convicted of anything yet. Many are also held simply because they cannot make bail, the average of which costs $15,000, making even covering a percentage of it completely cost-prohibitive and essentially leaving those innocent-until-proven-guilty in jail for financial reasons.
Constitutional Issues with Video-Chat Juries & Hearings
While a number of courts have started to use video conferencing to hold bond and preliminary hearings (and a court in New York even allowed one juror who was sick to continue to deliberate via video), this also interferes with defendants' rights, as there is no real ability to confront witnesses in this context. In addition, due to the nature of video conferencing, with an attorney and their client in two different places, communication between them is impossible, and this significantly interferes with the ability to prepare an adequate defense. Still, a number of states are currently testing simulated criminal and remote grand juries, presuming that our current state could continue for some time.
There Is No End in Sight. If You Have Been Charged, Contact A Criminal Defense Attorney Right Away
Perhaps of most concern is the possibility that this reality could be extended beyond the pandemic and could instead have an impact for years to come, depending upon the precedent set.
If you have been accused of committing a crime, working with an experienced criminal defense attorney is of paramount importance, especially right now, as our civil liberties are being eroded. Contact New York criminal defense attorney Phillip J. Murphy for a free consultation today to find out more.
Resource:
wired.com/story/video-chat-juries-and-the-future-of-criminal-justice/
pbs.org/newshour/nation/criminal-defendants-in-limbo-as-trials-put-on-hold-during-pandemic
https://www.phillipmurphylawyer.com/former-new-york-prosecutors-predict-a-number-of-white-collar-criminal-prosecutions-during-after-covid-19-although-delays-are-expected/