January 2020 Criminal Law Legislation Passed in New Jersey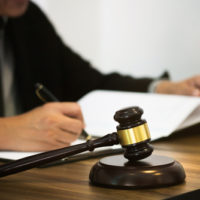 In January, a number of important bills were signed into law in New Jersey that criminalize selling toy guns that look like real guns and reform New Jersey's criminal justice system, which we describe below:
Illegal to Sell Toy Guns That Look Like Real Guns
In late January, New Jersey banned toy guns that look like real guns. It is now illegal for a toy gun to be aluminum, black, blue, or silver, and any sold must have a bright orange stripe along the side of the toy so that police officers and others know that the gun is not an actual weapon (note that the stripe requirement mimics federal law). Anyone who violates the law will be fined between $500 and $1,000, depending upon whether it is the first or subsequent violation.
The legislation was passed and signed into law in response to the police shooting of Tamir Rice, a 12-year-old who was shot and killed after police mistook his pellet gun for a real gun. According to the database of police shootings, more than 170 people were killed by police between 2015 and 2019 for holding toy guns.
Parole
Governor Murphy also signed a number of criminal justice bills into law to address civil asset forfeiture, fund gun violence reduction initiatives, and streamline the state parole system. The first – known as the "Earn Your Way Out Act," mandates that the Department of Corrections create a reentry plan and rehabilitative services for each inmate and allows inmates convicted of certain nonviolent offenses to be released on parole after receiving a certificate for release by a member of the State Parole Board and review by a hearing officer instead of undergoing a full parole consideration hearing, which moves them through the process more quickly.
Civil Asset Forfeiture
Civil asset forfeiture has long allowed police to seize property regardless of whether someone has been convicted of a crime, only a preponderance of evidence. A4970 bans asset forfeiture unless there are criminal charges related to the seized asset or a conviction, with two exceptions: If there is no known owner of the cash or property or the state proves – by a preponderance of the evidence – that the asset is cash worth more than $1,000 or property worth more than $10,000. As a result, individuals who are acquitted or whose cases are dismissed will more easily be able to recover any seized cash and valuables. In addition, another piece of legislation – S1963 – will also add disclosure and transparency requirements onto any asset forfeitures.
Funds to Reduce Gun Violence
S3309 establishes the New Jersey Violence Intervention Program to fund violence reduction initiatives. The program will enable the office of the Attorney General to provide grants to health agencies, police departments, nonprofits, and municipalities to implement evidence-based violence intervention initiatives for communities that face especially high levels of gun violence.
Contact Our New Jersey Criminal Defense Attorneys
If you are facing charges in New Jersey, or have any questions about ensuring that you are not engaging in any activities that are now considered illegal, contact New Jersey criminal defense attorney Phillip J. Murphy today to find out how we can help.
Resource:
insidernj.com/press-release/governor-murphy-signs-criminal-justice-reform-legislation/
thedailyjournal.com/story/news/new-jersey/2020/01/21/nj-bans-sale-realistic-looking-toy-guns/4531814002/
https://www.phillipmurphylawyer.com/new-jersey-may-upend-civil-asset-forfeiture-for-those-suspected-of-committed-a-crime/