Man Caught Packing Cocaine Into Shipments Of Chili Peppers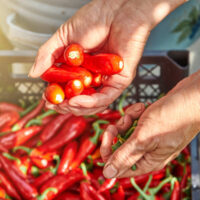 You can charge drug smugglers with many offenses, but you can never accuse them of lacking creativity. A federal court in Brooklyn recently sentenced a man to 13 years after he was caught packing cocaine into shipments of chili peppers. Apparently, the practice of hiding drugs in shipments of produce is a relatively common tactic, and perhaps it proved too predictable in this situation. However, law enforcement professionals were still required to literally "think outside the box" as they searched these chili pepper shipments for signs of drugs.
If you have been charged with any kind of drug-related offense, it's very important to get in touch with a qualified, experienced criminal defense attorney as soon as possible. This is especially true if you are facing charges related to drug smuggling or drug distribution. The penalties for these crimes can be quite severe, and an experienced attorney can help you mitigate many of the legal consequences you might be facing.
Produce Importer Decided to Try a New Product 
In 2016, a produce importer based in Pennsylvania named Humberto Baez decided that importing fruits and vegetables was not enough for him. He then conspired with a number of other individuals to import cocaine into New York from the Dominican Republic.
The process was relatively straightforward. He first ran a number of shipments from the Dominican Republic containing only vegetables. This was to create the illusion of a legitimate business. With these "dry runs" out of the way, he and his associates imported 16 kilograms of cocaine with the third shipment. The cocaine was hidden in the cardboard flaps of boxes containing chili peppers.
Drug Smuggling is No Laughing Matter 
The fact that this individual attempted to smuggle cocaine in a box of chili peppers may sound funny, but the drug trade is no laughing matter. Law enforcement takes this matter very seriously, and convicted criminals are faced with life behind bars in many situations. NYPD Commissioner Dermot F. Shea outlined the serious nature of this offense in an official statement:
"By conspiring to import cocaine hidden in a carton of chili peppers, Humberto Baez was fueling a violent trade that victimizes New Yorkers.  His conviction and sentencing today sends a clear message that the NYPD and our law enforcement partners will stop at nothing to track these kinds of schemes and protect the public from the impact of illegal narcotics."
Penalty for Drug Trafficking in New York 
Drug trafficking is a serious offense that may carry a sentence of up to 24 years in New York.
Enlist the Help of a Qualified Attorney Today 
For help from a skilled New York criminal attorney, contact Phillip J. Murphy. We have considerable experience with a range of criminal cases, including those involving drug offenses. If you're serious about fighting for your freedom in the most efficient way possible, get in touch with us as soon as you can. The sooner we can connect, the better your chances will be. Book your consultation today.
Source:
justice.gov/usao-edny/pr/produce-importer-sentenced-brooklyn-federal-court-13-years-imprisonment-conspiring