New Bill Seeks To Reinstate Death Penalty in New Jersey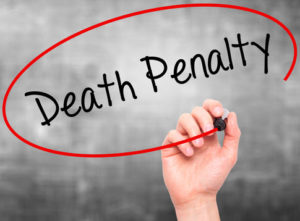 A bill was introduced the week of November 23rd seeking to restore the death penalty for serious crimes committed in the state of New Jersey, nine years after it was officially banned. New Jersey was the first state to abolish the death penalty in 42 years, replacing capital punishment with life in prison without the option of parole, when it was signed into law in 2007. Not only was the death penalty rarely used in New Jersey, but it also saved the state money, as the cost of keeping inmates on death row was more than keeping them in prison.
New Jersey is one of 18 states that have banned the death penalty to date, alongside Alaska, Connecticut, Hawaii, Illinois, Iowa, Maine, Maryland, Massachusetts, Michigan, Minnesota, New Mexico, New York, North Dakota, Rhode Island, Vermont, West Virginia, and Wisconsin.
History of Death Penalty in New Jersey
Prior to the state legislature's decision to abolish the death penalty in 2007 (which resulted in the sentences of eight inmates on death row to be commuted to life without parole), a state appeals court ruled that New Jersey's procedures for administering the death penalty were unconstitutional. Interestingly, no executions were actually carried out in the state between 1982 and the abolition of the death penalty in 2007.
"Extreme" Crimes
The new bill would apply the death penalty in what has been labeled "extreme" crimes, such as:
The murder of a child in the commission of a sex crime;
The murder of a police officer;
Deaths caused by acts of terror;
Murder conducted by those previous convicted for murder; and
Murder associated with serial killing crimes.
One of the sponsors—state Senator Jeff Van Drew—indicated that it would need to be used very sparingly, for example, only when there is a confession or DNA evidence present. However, as we have previously described, there are serious criminal justice issues associated with confessions, given the leeway prosecutors have in obtaining them.

Other measures taken over the last nine years to reinstate the death penalty in New Jersey have failed, indicating that this new bill will not likely be able to pass the state legislature (and then be signed into law by the governor).
Experienced Criminal Defense Attorney Serving New Jersey
If you have been charged with a serious and/or violent crime, it is imperative that you speak with an experienced criminal defense attorney immediately. Your rights are affected by state law, which is changing.
Attorney Phillip J. Murphy has been practicing criminal defense law—serving communities in New Jersey and New York—for over 25 years. Contact our office today for a free consultation, and we'll get started ensuring that your rights are protected and that you aren't the victim of cruel and unusual punishment.
Resource:
nj.com/politics/index.ssf/2016/11/5_things_to_know_about_nj_and_the_death_penalty.html