New Jersey Officials Question Jailing Immigrants For ICE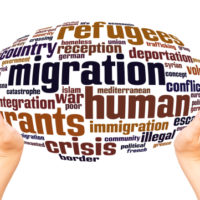 Since the current administration has expanded the scope of Immigration and Customs Enforcement (ICE), close to 2,000 immigrants have been placed in county jails in Bergen, Essex, and Hudson Counties alone here in New Jersey. Many are held solely on an immigration violation, which is a civil infraction. This is because the administration altered the mission of ICE such that more individuals without criminal convictions (i.e. simply with civil immigration violations) ended up being detained.
While officials in New Jersey have long relied on jailing immigrants as a source of revenue, an increasingly vocal movement is now growing to pull out of the immigration detention business, as we discuss below. In addition, six inmates at the Hudson County jail died over a recent nine-month period, sparking concerns and protests over conditions in the jails.
Weighing the Pros & Cons of These Contracts
Let's look at the statistics for Hudson County, New Jersey: Based on the number of inmates now at the county correctional facility, scrapping the program would save county taxpayers more than $1 million per year, but would also cause about 100 corrections officers—who work at the jail—their jobs. Essex County reportedly collects $3 million per month for its detainees, while Bergen gets a little over $1 million per month.
Yet the idea of continuing contracts with ICE simply for the revenue has left many with a bad taste in their mouth, noting that dollars should not trump morality. Many other counties in New Jersey have already chosen to end their contracts with ICE and it is projected that, if Hudson cuts ties with ICE, it will force Bergen and Essex counties to do the same.
While earlier this year, Hudson County activists were successful in convincing the county to pull out of a "287(g) contact," which involved corrections officers working with ICE to flag undocumented immigrants, detention-related contracts have historically been more complex to defeat because these counties reportedly rely on revenue from ICE to prevent layoffs of unionized corrections officers and keep taxes under control.
ICE Detainees Replacing Low-Level Drug Offenders in Jails
At the same time, bail reform legislation recently signed into law has resulted in a dramatic drop in inmates throughout New Jersey, as more and more low-level drug offenders are diverted away from jail and into treatment. Specifically, the pre-trial jail population has plummeted between 25 and 37 percent, depending upon the county in question.
However, there are also more ICE detainees than ever in these jails taking their places, and waiting days, months, or years for pending deportation proceedings to make their way through a backlogged system.
Criminal & Deportation Defense Attorneys Serving New Jersey
There is no question that a number of individuals in New Jersey have had and will have their rights violated as criminal justice is mixed with politics and deportation policies. Our attorneys at the office of Phillip J. Murphy have been defending clients in New Jersey—and ensuring their rights are protected—for more than 15 years. Contact us today to find out how we can help you.
Resource:
wnyc.org/story/should-new-jersey-democratic-officials-keep-jailing-immigrants-ice/