New York City Is On the Verge of Severely Penalizing Red Light and Speeding Camera Violations with Potential Vehicle Impoundment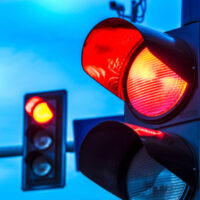 New York City Council is currently contemplating taking extreme measures in response to what has been described as rampant traffic violations and reckless driving in the city which has led to a number of injuries and deaths. According to a preliminary study by the University of Chicago and New York City Transportation Department, vehicles with five or more camera-related violations were twice as likely to be involved in a crash that ended up causing injuries or death, and those with 10 or more violations were almost three times as likely to be involved. As a result, the Council is proposing that those who end up with multiple red light and/or speeding camera violations either take a driving safety course or potentially face their vehicle being seized by the city. The driving course would be modeled based on a program developed for defendants charged with criminal driving offenses.
While drivers with a certain number of moving violations such as drunk driving or speeding can already have their license suspended or revoked, camera tickets are linked to the vehicle, not the driver, so they do not currently count towards a driver's license record. However, this new proposal would reflect the first serious penalty system linked to these violations caught on camera.
Due Process Issues Associated With Speeding & Red-Light Cameras
While a significant number of studies have found that these cameras help lower the number of crashes that result in injuries or deaths, a number of cities have still been reluctant to adopt them because they are prone to mechanical errors that can result in tickets being issued by mistake and, as a result, they can sometimes simply serve as more of an unfair source of government revenue versus a safety measure. Some have also pointed out that there are due process issues associated with the tickets that come from these cameras because drivers do not have the ability to face the actual police officer issuing a traffic ticket. As a result, New Jersey imposed a ban on red light and speed cameras. However, New York City reportedly already has hundreds of red light and speed cameras and expects to have thousands by the end of 2021. According to the statistics put out by the city, the number of severe injuries from crashes at NYC intersections declined by 84 percent once that red light cameras were installed and about 20 percent in areas where speed cameras were installed.
If You Are Facing a Traffic Violation Charge, Contact Our NYC Defense Attorney
New York City is already strict when it comes to assigning certain types of criminal charges to some driving offenses, and is on the verge of becoming even stricter. If you are facing a traffic violation, contact experienced New York criminal defense attorney Phillip J. Murphy for a free consultation to find out how we can help.
Resource:
https://www.nytimes.com/2020/02/10/nyregion/driving-reckless-nyc.html
https://www.nytimes.com/2020/02/10/nyregion/driving-reckless-nyc.html
https://www.phillipmurphylawyer.com/u-s-supreme-court-refuses-to-hear-city-appeal-effectively-upholding-lower-courts-decision-that-cities-cannot-prosecute-the-homeless-for-sleeping-on-the-streets/