New York Makes It Illegal for Anyone Under Age 21 to Buy E-Cigarette and Tobacco Products, And That's Just the Start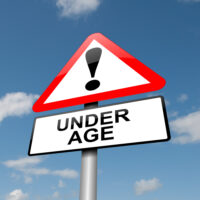 In November, the state of New York officially made it illegal to purchase e-cigarette and tobacco products in the state for those under the age of 21. According to reports, the legislation is an attempt to decrease the number of teen smokers in the state, as almost 30 percent of all high school students now use e-cigarettes.
New York is the 18th state to put a law like this into place. Meanwhile, health officials are increasingly concerned about the chemical compound associated with a number of vaping-related illnesses.
Will This Simply Increase Black Market Sales?
Still, some have pointed out that banning these activities could actually increase the problem: Not only would teenagers continue to obtain e-cigarettes in one way or another, but it could very well increase the use of black-market vaping products, which have been more closely tied to a number of vaping illnesses.
Indeed, some have noted that, as states like New York crack down on vaping products, they fail to acknowledge just how much more dangerous actual cigarettes are, and the fact that – with a ban on vaping products, cigarettes will become the inevitable default for many smokers. In addition, the majority of all vaping-associated tragedies are linked to contaminated cannabis products.
Complete Ban On E-Cigarettes Stuck in Court
In addition, Governor Cuomo has also introduced a complete ban on e-cigarettes; arguing that the ban is necessary due to a public health emergency. A number of New York businesses have noted that, should e-cigarettes become completely illegal, their businesses will experience serious financial challenges and irreparable harm. As a result, some took city leaders to court, and the ban was repealed by the New York Court of Appeals. It is currently awaiting deliberations in New York's court system.
Closing The "Menthol Loophole"
New York isn't stopping at e-cigarettes: Legislation introduced in October would make it illegal to sell and distribute all flavored tobacco products, including menthol cigarettes and any other product that has a "distinguishable taste or aroma than tobacco," with penalties for manufacturers reaching up to $50,000. While the federal government has long limited the sale of flavored cigarettes, there has been a longstanding exception for menthol, which can still be marketed to teenagers and others. If the legislation passes, New York would become the first state to ban menthol cigarettes.
If You Have Been Accused of Engaging in Illegal Activity In New York, Contact Our Defense & Civil Rights Attorneys
If you are being charged with a smoking-related charge, or one related to selling a banned product, contact our experienced New York criminal defense attorneys at the office of Phillip J. Murphy to find out how we can help.
Resource:
democratandchronicle.com/story/news/politics/albany/2019/10/28/why-menthol-cigarettes-may-soon-illegal-new-york/2484517001/
theatlantic.com/ideas/archive/2019/10/danger-vaping-bans/600451/
columbiaspectator.com/news/2019/10/28/morningside-heights-smoke-shops-say-new-york-states-e-cigarette-bill-could-devastate-their-businesses/
https://www.phillipmurphylawyer.com/new-yorks-raise-the-age-law-has-transformed-how-juvenile-crimes-are-treated-especially-in-brooklyn/