Overturning Convictions for Due Process Violations: Why Defense Attorneys Must Remain Vigilant During Trial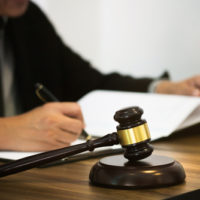 One state supreme court's decision to overturn a murder conviction highlights just how important it is for criminal defendants to make arguments concerning their due process rights.
In this particular case, the court ruled to overturn a 2006 murder conviction after it found the comments made by prosecutor during closing arguments were "improper." Specifically, during closing arguments, the prosecutor told the jury that his job was to present the truth while the defense his job was to manipulate the truth, confuse jurors, and essentially disregard the truth. The court found that these comments resulted in a violation of the defendant's due process rights and reversed the conviction.
How Due Process Rights Work
Due process essentially mandates that procedures associated with the enforcement of our laws are evenhanded, in other words, if the concept of fundamental fairness has been observed. This is because the Fourteenth Amendment guarantees our right to life, liberty, and property. However, in some circumstances, governments can put certain restrictions in place if they have a "rational basis to do so."
This is also where New York's new criminal justice reforms will come into play: when prosecutors suppress evidence that is favorable to the accused, this violates due process when this evidence is crucial to either guilt or punishment. Still, withholding evidence in criminal trials has been fairly routine in New York; until now: Starting in January 2020, prosecutors must turn over evidence that is favorable.
In this case, the defendant made the argument that he acted in self-defense, however, the prosecutor's comments may have prevented the jury from trusting the defendant's testimony on the stand. This completely violates the presumption of innocence and the right to a fair trial; a significant aspect of our criminal justice system. The prosecutor cannot provide the jury with license to disregard the defendant's testimony.
When comments like these are made, trial attorneys should move for a mistrial and file for post-conviction release. However, in order to be successful, the court must not only find that the prosecutor remarks are improper, but that they are prejudicial to the defendant's substantial rights so as to deprive them of a fair trial; even if their defense attorney made objections and the trial judge tried to cure the issue by making their own comments.
Work with The Very Best in Criminal Defense
If you are accused of a crime, it is imperative that you work with a defense attorney who not only has experience, but does everything in their power to ensure that you are provided with the very best defense of your rights and, if you go to trial, a fair trial. If you are facing charges, contact our New York criminal defense attorneys at the office of Phillip J. Murphy today to find out more about our services.
Resource:
oyez.org/cases/1900-1940/198us45
wistv.com/2019/12/26/prosecutors-improper-comments-lead-sc-mans-murder-conviction-being-overturned/
https://www.phillipmurphylawyer.com/trials-for-criminal-defendants-in-new-york-are-about-to-completely-transform-due-to-criminal-justice-reforms/