Penalties for Gun Trafficking in New Jersey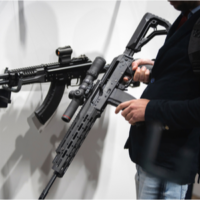 Although firearms are legal to purchase and own in New Jersey, there will likely always be an underground black market of illicit firearm sales. Criminals who need to purchase firearms must turn to illegal dealers and smugglers, and gun-running is in fact a major industry in the Garden State. But what happens if you are caught participating in a gun trafficking operation? What is the definition of gun trafficking, and what kinds of penalties might you face if charged with this crime?
These questions are probably best left answered by a legal professional, such as a criminal defense attorney. If you have been charged with this crime yourself, a criminal defense attorney can also represent you in court and fight for your rights. Enlisting the help of one of these legal experts is a smart move, and a skilled attorney can help you mitigate many of the legal consequences you may be facing.
Leader of a Firearms Trafficking Network 
New Jersey has its own set of laws that pertain to a "leader of a firearms trafficking network." If it is discovered that you were personally running an illegal firearms network, you could face particularly severe charges. These laws help distinguish between the main operator of the illegal network and a normal worker who contributes to the operation.
If you organize, supervise, finance, or manage such a network with the intent of earning a profit, you are guilty of a crime of the first degree. Along with the usual penalties associated with a crime of the first degree, you may also face a fine of $500,000. The court may also multiply the total value of the firearms by five. If this number is greater than $500,000, you will be fined this amount instead.
Gun Traffickers Caught in New Jersey 
To give you an example of the potential consequences gun traffickers might face, let's examine a recent case of gun trafficking in the state of New Jersey. In May of 2021, the United States Attorney's Office reported that three individuals had been charged with conspiring to illegally sell firearms. These illegal firearms included five pistols and one rifle. Each of these individuals was charged with one count of conspiracy to engage in the business of unlicensed firearms dealing. Since two of the individuals were convicted felons, they also faced additional charges of possession of weapons and ammunition, since felons are not allowed to possess them.
The first count of conspiracy to sell unlicensed firearms involves a prison sentence of up to five years and a maximum $250,000 fine. For the felons who were caught in possession of firearms and ammunition, the maximum prison sentence is 10 years.
Enlist the Help of a Qualified Attorney as Soon as Possible
If you are facing gun trafficking charges or any other criminal charges related to firearms, it's extremely important that you get in touch with a qualified, experienced New Jersey criminal defense attorney as soon as possible. Phillip J. Murphy, Attorney at Law is a solid choice if you are facing serious gun trafficking charges. Thanks to a wealth of criminal defense experience, we can help you avoid unnecessary penalties. Reach out and book your consultation today.
Resource:
justice.gov/usao-nj/pr/three-people-charged-interstate-gun-trafficking-conspiracy
https://www.phillipmurphylawyer.com/is-it-illegal-to-spread-misinformation-in-new-jersey/