Penalty for Using Plastic Bags in New Jersey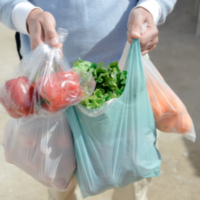 New Jersey has many laws, some of which are obscure and confusing. Well, it's time to add one more law to the list, as Governor Phil Murphy (not to be confused with Phillip J. Murphy, Attorney at Law) has signed a new bill banning all use of plastic bags. So what happens now? What are the penalties for using plastic bags in the Garden State? What kind of consequences might you face if you're caught using one of these forbidden items at your store or place of business?
If you have been accused of illegally using a plastic bag in New Jersey, you might want to get in touch with a qualified, experienced criminal defense attorney as soon as possible. The consequences for these charges may be problematic for your business, especially if you don't have a lot of cash to deal with excessive fines. Working with a legal professional can help your business avoid these needless consequences.
The Details of the Ban
In 2020, Governor Murphy signed a new law that banned all businesses in the state from using plastic bags. These new laws go into effect in May of 2022, which gives businesses some time to adapt – although this date is fast approaching. But what are the exact details of this ban? The exact wording states that businesses cannot hand out "single-use plastic bags." You'll also face penalties if you hand out things like polystyrene food containers, plastic straws, and even paper bags. It is no surprise that these new laws are seen as the strictest anti-plastic rules in the entire nation.
Many different businesses will have to follow these rules, including movie theaters, food trucks, convenience stores, restaurants, and grocery stores that are larger than 2,500 square feet. There are a few exemptions, and businesses are allowed to break the rules for things like:
Wrapping raw meat
Dry cleaning bags
Newspaper bags
Prescription drug bags
What If I Break the Rules? 
If your business is caught breaking these rules, you will be issued a warning for your first offense. If you are caught breaking the rules again, you will be issued a $1,000 fine. If you are caught breaking the rules for a third time, you will face a $5,000 fine. All fines go towards the Clean Communities Program Fund, which pays for litter clean-up efforts throughout New Jersey.
How to Defend Yourself 
With the help of a qualified attorney, you can defend yourself against these charges in a number of ways. For example, you may be one of the businesses that is exempt from these rules, or the authority who issued your ticket might have made a mistake.
Enlist the Help of a Qualified Attorney Today 
If you need help from a New Jersey criminal attorney, don't hesitate to reach out to Phillip J. Murphy, Attorney at Law. New laws are always being passed in New Jersey, and sometimes it's difficult to keep up. With our help, you can fight for your rights in an effective manner and avoid excessive fines and penalties for your business. Reach out today, book your consultation today, and we can develop an effective action plan together.
Resource:
nj.com/news/2020/11/plastic-bags-banned-in-nj-as-murphy-signs-new-law.html
https://www.phillipmurphylawyer.com/penalty-for-covid-relief-fraud-in-new-york/