Racial Profiling & Arresting African Americans for Wearing Legally-Required Virus Masks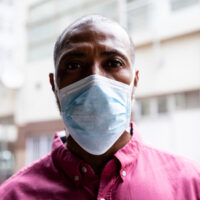 There is no question that there are a number of strange circumstances surrounding coronavirus-related criminal charges appearing in our everyday lives, with some police officers now also reportedly targeting and arresting African-American men simply for wearing masks, a measure that was recommended by the Centers for Disease Control (CDC) in order for every citizen to protect themselves from the current COVID-19 pandemic. As a result, a number of US senators, including Cory Booker, recently sent a letter to the Federal Bureau of Investigation and Department of Justice demanding that anti-bias training be required for all law enforcement officials.
Indeed, these interactions go beyond simply targeting particular individuals due to their race and have turned into violent police-citizen interactions, including one doctor who was handcuffed and arrested as he was in the process of testing homeless people for the virus, and another who was physically dragged off of a bus by police for reportedly failing to wear a mask. Others have reported being followed by police as they wore their masks into stores and being told that they were "acting suspiciously."
Existing Racial Bias Issues, combined with A Pandemic, Become Deadly for Minorities
There is no question that already-existing racial biases are reflected in a number of police-citizen interactions, from incarceration, to officer-involved shootings, stop-and-frisk, traffic stops, wrongful arrest, and more. Data indicates that this has been a serious issue in New York City in particular, where minorities made up almost 90 percent of those targeted for stop-and-frisk and almost 90 percent of those stopped were deemed innocent of the crimes they were suspected of. A federal judge even officially ruled that New York's stop-and-frisk police was essentially "indirect racial profiling."
Unfortunately, studies show that the same phenomenon applies to traffic stops as well, where African-Americans are much more likely to be pulled over and searched than white Americans. Add a national crisis and face masks to this, and you end up with discriminatory policing policies that could become outright deadly for African-Americans. The pandemic has unquestionably increased already-existing inequalities and left a number of minorities with one of two choices: Wear a mask and risk threats from the police, or don't wear a mask and risk threats from COVID-19… as well as potential threats from police.
Changes Needed
While anti-bias training is a step in the right direction, more will inevitably be needed in order to ensure that peoples' rights are protected. Officers and others must be held accountable legally and there must be greater transparency as well. The public deserves to be provided with regular reports as to what coronavirus-related arrests are being made so that we know how the police are defining these crimes, especially given that New York Mayor Bill de Blasio made a promise to the public that failure to social distance, for example, would be met with fines, not criminal charges. Still, police have reportedly arrested a number of people for this "crime," especially minorities in poor neighborhoods.  New Jersey as well has implemented mandatory face-mask requirements and social distancing, and arrested people for disorderly persons offenses and other charges in connection with these practices.
If You Are Facing Charges, Contact Our New York & New Jersey Criminal Defense & Civil Rights Attorneys
There is a strong argument that coronavirus-related laws, unlike others that are well-established, are unconstitutional and will be successfully challenged in court once that the courts are open and functioning again. If you are facing charges, contact New York City criminal defense attorney Phillip J. Murphy today for a free consultation to find out how we can use our more than 30 years of experience to help ensure that your rights are protected.
Resource:
phillyrecord.com/2020/04/not-wearing-a-face-mask-criminal-charges-how-serious-is-it/
vox.com/2020/4/22/21230999/black-men-wearing-masks-police-bias-harris-booker-senate
nytimes.com/2020/03/27/nyregion/coronavirus-new-york-update.html
nyclu.org/en/stop-and-frisk-daTA
https://www.phillipmurphylawyer.com/new-york-police-department-increases-low-level-arrests-in-poor-neighborhoods-during-virus-concerns/