Some New York DAs Announce That Peaceful Protesters Won't Be Prosecuted If Arrested, But Many Still Wait in Jail for Days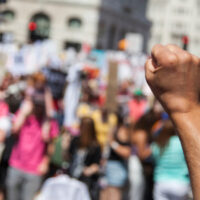 Many of those who were arrested here in New York while protesting George Floyd's death were charged with disorderly conduct and unlawful assembly. However, according to reports, in June, Manhattan, New York District Attorney Cy Vance Jr. indicated that his office would not prosecute charges of disorderly conduct and unlawful assembly against those protesting Floyd's death "in the interest of justice," while the Brooklyn and Bronx DA's offices indicated that they have been following the same policy of not prosecuting these charges since the protests began.
However, while some offices have remained quiet in response to requests to clarify which specific charges they would be prosecuting, the Manhattan DA also made it clear that any evidence emerging indicating that protesters engaged in violence against police or destruction of property would result in charges. In addition, many protesters are still being arrested for these activities and held for several days in New York jails, in spite of state laws requiring that they appear in front of a judge within 24 hours and be released without bail for certain charges.
Thousands Arrested In New York & Held for Longer Than 24 Hours
As of early June, more than 10,000 people around the country had been arrested and 12 killed in connection with protests over the death of George Floyd. Of this total, more than 2,000 were reportedly arrested here in New York for a number of charges, including assault on a police officer, burglary (looting), disorderly conduct, resisting arrest, and unlawful assembly.
New York in particular has made news headlines in connection with hundreds of protesters being arrested in connection with simply exercising their civil right to peaceably assemble, with the city's overcrowded jails not only placing them in danger due to COVID-19 (as a number have reportedly not been provided with masks), but also without the ability to get in front of a judge within the required 24-hour period, as set forth by the State Court of Appeals in People v. Roundtree.  Still, a number are being held for days, with most declines reportedly occurring in the Bronx and Brooklyn.
Challenging Unlawful Detention
As a result of being unlawfully sent through the criminal arraignment process, defendants' constitutional rights and state laws are regularly being violated. Many should have, instead, received summonses for minor offenses that occurred during the protests. And while a number of those who have been detained for three days without seeing a judge filed a lawsuit in June, accusing the police of illegally detaining them in violation of the 24-hour state law, in some circumstances, judges will cite exigent circumstances (such as the current civil unrest and pandemic crisis) in allowing for them to be held beyond the 24-hour limit.
Still, it is important to remember that, under the state's new bail law, most defendants awaiting arraignment, even if charged with crimes such as burglary (which reportedly accounts for approximately one-quarter of those arrested in New York), must be released without bail.
Protect Yourself: Contact The Best In New York Criminal Defense
If you have been arrested, you may have received a desk appearance ticket, which requires you to return to court at a later date. New York criminal defense attorney Phillip J. Murphy can help you understand your rights and what to expect from the process, as well as provide you with the best outcome. Contact our office today for a free consultation to find out more.
Resource:
forbes.com/sites/jemimamcevoy/2020/06/05/peaceful-protesters-in-manhattan-and-san-francisco-wont-be-prosecuted-if-arrested/#33cedf4527ac
nytimes.com/2020/06/04/nyregion/nyc-protests-jail.html
law.cornell.edu/nyctap/I91_0035.htm
https://www.phillipmurphylawyer.com/hundreds-of-new-york-protesters-arrested-for-unlawful-assembly-on-one-night/